Blue Orchid Cleaners
Partner Spotlight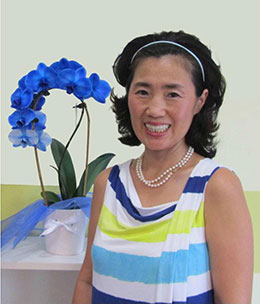 Jenny Svetcos, Owner
When Jenny Svetcos opened the Blue Orchid Dry Cleaners in Rosslyn in 2010, she was no stranger to the dry cleaning business. Over thirty years ago, Jenny and her family moved to New York City where they purchased an existing dry cleaning business. Her family had recently emigrated from Korea, and her father asked her to take a break from college in order to manage the new store. Jenny's father promised she could return to school after she ran the business for two years, but she became so good at taking care of customers that she never returned to complete her degree. Over the years Jenny taught her younger brother and sister the dry cleaning business; Jenny's brother now manages the family store while her sister has her own store in Brooklyn.
Before Jenny opened the Blue Orchid, she owned Rosslyn Metro Dry Cleaners for over 10 years. "I love being in Arlington," says Jenny. "I like the people, and the activities-everything is so close by." Having a business that is Metro accessible is important to Jenny, "We are about the same distance between the Court House and Rosslyn Metro stops, and many of our customers come from the Metro and stop in on their way to work." Jenny's customers take advantage of her same day service, allowing them to drop off their clothes on the way to work and pick them up on the way home.
Jenny has developed a loyal customer following and it's easy to see why her business has grown, primarily through word-of-mouth. Jenny says, "My customers tell me that they will follow me wherever I set up my store." Jenny's customers are more than just 'customers.' She even invited several of them to her wedding several years ago. She has a large clientele of diplomats, military officers, and local celebrities who travel from as far away as Winchester, VA and Maryland to have Jenny take care of their clothes. She uses environmentally friendly, petroleum-free chemicals in her dry cleaning process and offers expert tailoring and alterations. She also repairs shoes and preserves wedding gowns.
Jenny has many stories about her customers, and she is very proud of the trust that they have in her. Jenny tells us "Many of my customers forget to check their pockets when leaving their clothes. Over the years, I have found many things including money, lipstick, and even ID badges. I always take care of my customers and they know I will do the best job for them."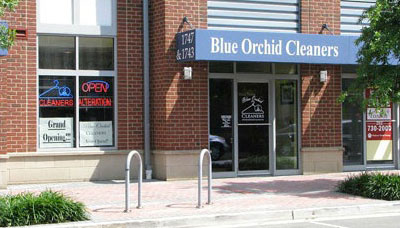 When Jenny decided to open her store at its current location, 1747 Clarendon Blvd., she knew exactly what she wanted it to look like. An avid orchid enthusiast, Jenny designed the store with pleasing colors, right down to the blue orchid plant that is on display near the entrance. She even has doggie biscuits for her customers' dogs. When asked for advice to keep clothes in good condition, Jenny replied, "Don't wait to bring in your clothes after they have been stained. The fresher the stain, the better results." Sage advice from a woman who has been taking care of clothes for over a quarter of a century.
Blue Orchid Cleaners
1747 Clarendon Boulevard
703-276-7974
Transportation Options