Chill Zone Cafe
Daniel Bui, owner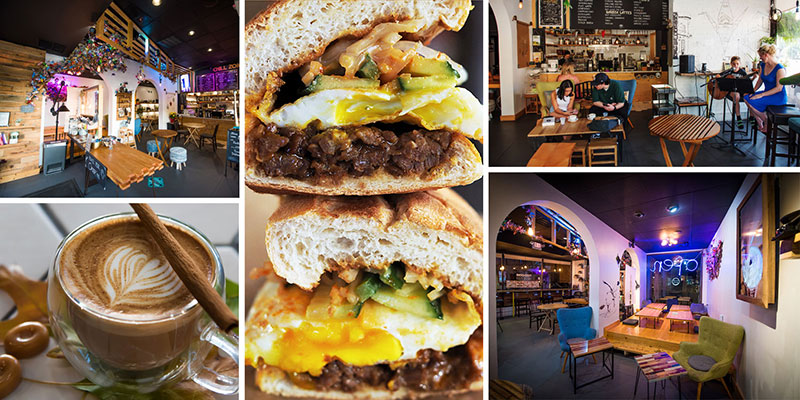 One thing that's evident as soon as you walk in Chill Zone Cafe is the vibe of an authentic eatery along Langston Boulevard (formerly Lee Highway). Hailing from southern Vietnam, owner Daniel Bui explains his goal to bring a unique experience whether it's lounging in his space, enjoying coffee or savoring flavors from his home country. This is evident as an order of lean brisket pho comes out of the kitchen. The creativity is all over the menu from Viet tacos to bánh mí, papaya salad to egg coffee. As if on cue, an impressive green soy gelatin topped with ginger syrup and whipped coconut milk appears on a table nearby. His main goal is to recreate the wholesome taste of his mother's Vietnamese kitchen and to do so with natural ingredients. Daniel isn't one to take shortcuts to bring you an authentic and flavorful dish. You may also be surprised to find keto options on the menu too. Decorations are just as unique with numerous origami figures and vintage film cameras representing Daniel's other occupation as a professional photographer.
The decision was either Falls Church or Arlington. But when Daniel saw this available spot on the corner, he knew this is where Chill Zone would plant its roots. That was in 2016 and since then, Daniel's cafe has slowly grown to become a local favorite on word-of-mouth alone. Being near the Lee-Harrison Shopping Center has its advantages, but Daniel says there are still issues with people finding parking. The flow is awkward with one-way entrances from a nearby supermarket, which makes for cautious maneuvering to get to the parking lot. Thankfully ART 51 & 55 pass directly by Chill Zone Cafe taking passengers either to East Falls Church (55) or Ballston (51/55). Additionally, there are bike lanes nearby with several walking routes within the Yorktown community. Daniel says this is how many students and adults get to his coffee shop.
With two shopping centers, two parks and a high school nearby, there's plenty to do. There's no reason you can't get your steps in and reward yourself with a coffee or more! Visit Chill Zone Cafe for an off-the-beaten path, unique experience.
Chill Zone Cafe
2442 N. Harrison St.
Arlington, VA 22207
Go car free to Chill Zone Cafe