Covet
Partner Spotlight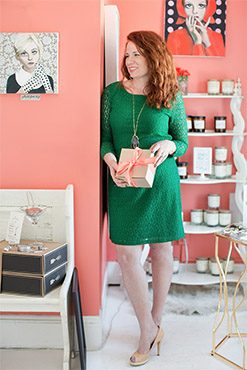 Autumn Clayton, Owner
Autumn Clayton didn't think she was in a position to start a business when a friend called in January 2010 and invited her to look at the second level of what had been an old farmhouse in the Bluemont neighborhood of Arlington. After brainstorming ideas for a boutique, she signed a lease the next day. Today Covet is still going strong as the place to find one-of-a-kind jewelry, clothing and gifts from local and national artisans and craftsmen.
Clayton's retail and design background complemented her friend's art and furniture refurbishing experience, so they collaborated. She wanted to source locally and began calling area artisans she found on Etsy, an online marketplace for handmade items and told them, "I'm opening a store in March, and I want to sell your items."
Some of Covet's more popular items include Sydney Hale Candles, a company started by a woman in Arlington who made the candles in her kitchen. Covet sells a lot of jewelry, much of it from Arlington-based artists including Diane Felice and Little Miss Pepper Designs.
Clayton appreciates the Arlington community's support of Covet and of small businesses in general. "It's a big family feeling I have with my customers and vendors," she says. It's such a close relationship that when guys come in to shop for their wives, often times Clayton knows the wife and can easily make a recommendation on what to buy.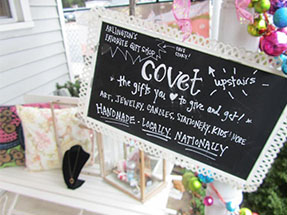 Since opening Covet, one of Clayton's biggest surprises was she never had to pay the rent herself and she and her friend didn't need to hire an electrician or carpenter to get the store ready to open. She was also shocked by how packed the store was for the Grand Opening.
Although Clayton drives in from McLean, often with boxes of merchandise, many of her customers take public transportation or walk to the store - even from Dominion Hills or Westover. She believes Covet and the Car-Free Diet are a good partnership because "they're both thoughtful and meaningful, and those things attract the same person. People are conscientious about how they're getting places and what they're buying when they get there."
Covet
5140 Wilson Boulevard
703.247.9797
Transportation Options