Front Page Arlington
Partner Spotlight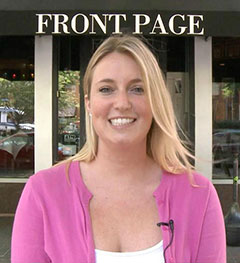 Emily Garber, Events Manager
When Emily Garber finished college with a focus in business management, little did she know that two years later she would be the 'chief party maker' at The Front Page, located in the heart of Ballston. The restaurant is part of a regional chain of 10 dining establishments located throughout the Mid-Atlantic region. And while each location has its own name and brand, the focus on good food and a comfortable atmosphere is all-encompassing.
Emily tells us that the restaurant patrons at The Front Page include a mix of young professionals from the surrounding apartment buildings along with office workers from nearby businesses. "We have some regulars who insist on sitting at the same table every time they come to eat, and we do our best to accommodate them," says Emily. And being right across from the Ballston Mall where the Washington Capitals practice, it's not uncommon for customers to mingle with some of the hockey players during the season. "We're in a great location in Arlington, being so close to the Ballston Metro and several bus routes. We've even included information on public transportation in our directions on our website to encourage our customers to use public transportation whenever possible."

Emily's focus on hosting events and promotions is an important part of the restaurant's business. She plans everything from happy hours, baby showers, and fundraisers, to retirement parties. Working with customers to plan the party gives Emily plenty of opportunity to sample the restaurant's menu items, and her favorite selection is the 'Make Your Own Salad" option to which she likes to add crab cakes. One of the top customer favorites is Fettuccini with Blackened Chicken. The Front Page also offers catering and Emily is very involved in planning each event, right down to setting up the karaoke station and sound system. "It's not uncommon for us to have up to three events per day at the restaurant," says Emily. Her personal favorite is planning surprise parties, where everyone has to find a place to hide before surprising the guest of honor!century.
Emily is fortunate to live close enough to walk to work, and once her job is over she heads to Georgetown University where she is working on her Masters Degree in Public Relations with a digital focus. Emily gave up her car when she moved to Arlington, and she relies on her iPhone DC Rider and Taxi Magic apps to help manage her commute between school, work and personal outings. "I really like taking the metro," says Emily, "but walking is still my favorite Car-Free Diet activity.
The Front Page
4201 Wilson Boulevard
703-248-9990
Transportation Options