Heidelberg Pastry Shoppe
Partner Spotlight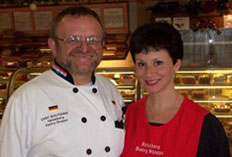 Wolfgang & Carla Buchler, Owners
Many immigrants arrive in America with dreams of owning a business. When Wolfgang Buchler arrived in the U.S. from Germany in 1969, his dream was to open a German pastry shop. Wolfgang had apprenticed at his uncle's store and knew the secrets to being successful: provide good service, support the local community and, above all else, offer quality products. This recipe for success has provided Wolfgang, his wife Carla, and their children with a thriving business that continues to this day.
Carla first came to the U.S. from Germany to work as an au-pair. "I had recently arrived in the U.S. as an au-pair for a local family and I was homesick so I went to the pastry shop to find someone who spoke German. Well, one thing lead to another and two years later Wolfgang and I were married!" Fast forward to today and after raising two children who are also involved in the business, they are still happily married and working together at the Heidelberg Pastry Shoppe, now approaching its fourth decade.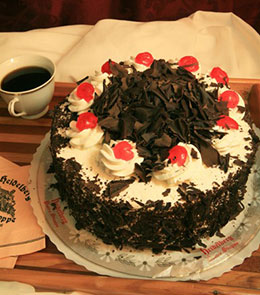 The Heidelberg Pastry Shoppe is a full-line European bakery and deli. They make over 30 kinds of breads, many types of pastries, strudels, hand-made chocolates and of course, their famous cakes. With the advent of the cupcake reality shows, they now offer a variety of flavors, including honey flavored butter cream with apples on top.
There are between 40 and 50 full and part time employees, depending on the time of year. The shop is located on N. Culpeper Street just off Rt. 29. "We're very fortunate to have a bus stop and a bike stand right in front of our store. This makes it very easy for our staff to commute to work. Although we both arrive very early to begin work, Wolfgang will sometimes bike or walk to work," says Carla.
Wolfgang and Carla are very proud of the accolades their business has received over the years. In 2011 they were awarded Wedding Wire Bride's Choice Awards™ for wedding cakes. They were recognized by the Arlington Chamber of Commerce as an outstanding business in the community in 2009 with a prestigious ABBIE Award. And in 2008, Washingtonian magazine named them one of the three best bakeries. The couple is equally proud of their contributions to the community, and support many local groups and school fund-raising efforts.
Although in their 38th year of operation, Wolfgang and Carla have no plans to slow down. Is there any chance a second shop will open? Carla responds, "One location is perfect for us. Our goal is to ensure top quality in everything we make, so we have no plans to expand anytime soon.
Heidelberg Pastry Shoppe
2150 N Culpeper St.
703.527.8394
Transportation Options