Hurt Cleaners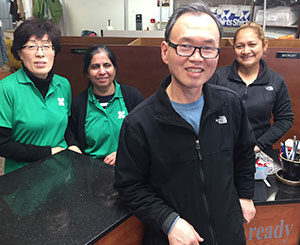 Joseph Na has always been in the dry cleaning business, so when he saw one of Arlington's oldest stores for sale in Virginia Square, he bought it. Originally a local pool hall in the 1930's, Richard Hurt acquired the building and began Hurt Cleaners in 1948. He passed it along to his son, and it was then purchased by Joseph who says "Mr. Hurt's son was a very good businessman. I learned a lot from him and wanted to carry on the business name."
Joseph, originally from Korea, has lived in Fairfax since 1998. When he took over Hurt Cleaners, he installed a water purifying system, which cleans the water before being disposed as waste. The waste management company, with whom he contracts to remove the waste, says Hurt Cleaners is the only company with an installed safe environmental system in the area and has the lowest amount of waste. Joseph also offers green garment bags to customers — an environmental alternative to the commonly used plastic bags many businesses use to protect cleaned clothes.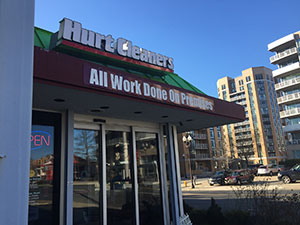 Many of the employees live in the area and while a few drive, most take the Metro or bus to get to work. As for the customers, Joseph comments some will walk because they live in the neighborhood and he's seen some customers arrive by bicycle. He's noticed over the years, there are younger customers now than before. He thinks it's because of the variety of service, care for the environment and as the sign on the building says, "All Work Done On Premises."
Being a Car-Free Diet Partner allows his business to further contribute to making our air cleaner by supporting public transit, biking and walking — all of which helps keep Arlington a vibrant and livable community. Joseph shares "it's enjoyable to have customers bring their clothes in and know we're cleaning them to help with an important meeting or a job interview." Learn how to go car free to Hurt Cleaners.
Hurt Cleaners
3410 Wilson Blvd.
Arlington, VA 22201