Mimi's Handmade Ice Cream
Rollin Amore, Owner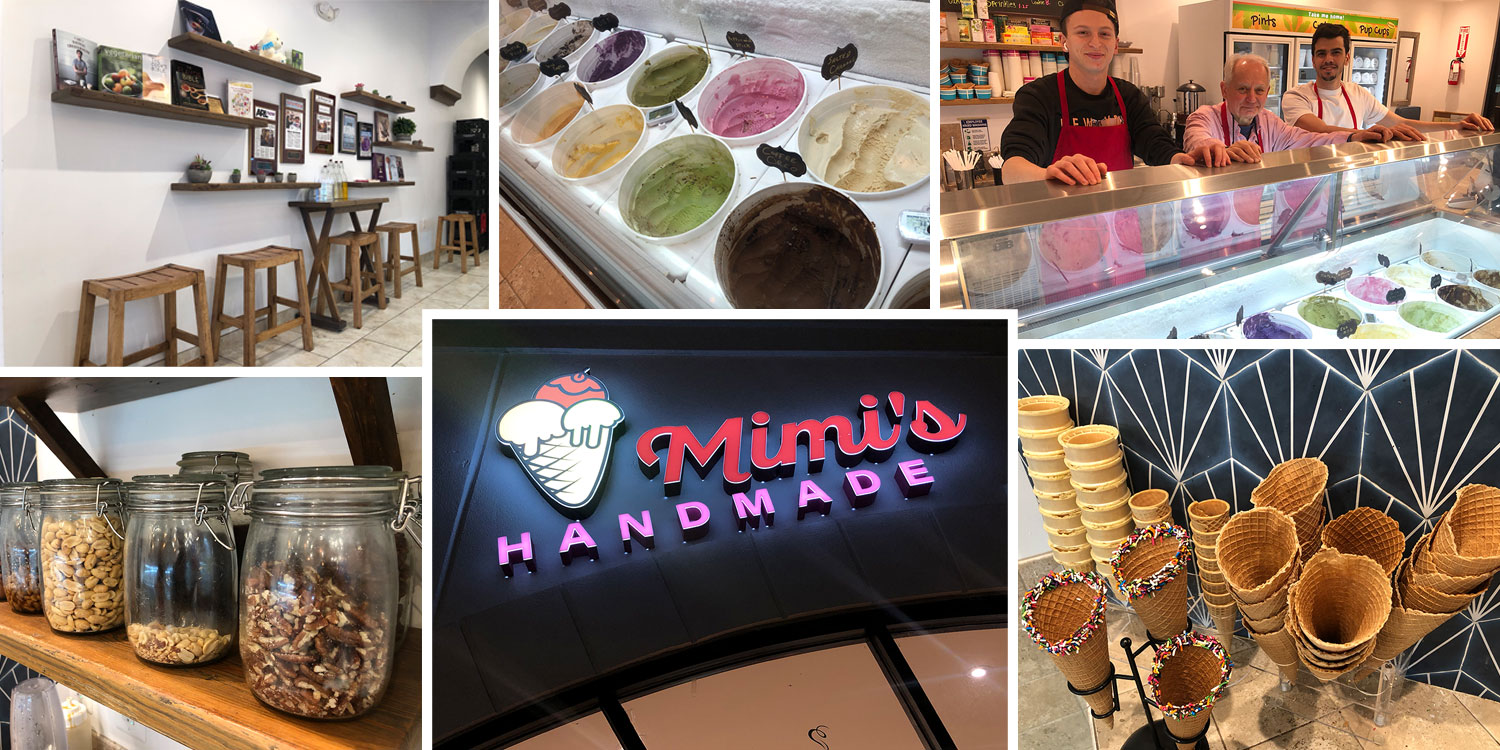 He was born in south Germany with family from Italy, but it was owner Rollin Amore's travels through southeast Asia that has influenced many of the flavors you'll find in his ice cream shop, Mimi's Handmade Ice Cream. Combine that with Rollin's sense of flavors, textures and cooking — he decided to learn how to make ice cream and open his own business. Four years later, he opened Mimi's Handmade Ice Cream in Pentagon Row and the combination of flavors are surprising. One of his biggest sellers is ube, a Filipino purple yam, not overly sweet and a very pleasant taste. Another unique flavor you'll find is lychee (made as both an ice cream and sorbet) — and yes, it's made from natural lychee. In fact, all flavors are made from scratch without additives or colorants. "We don't use flavors," says Rollin as he toasts pecans for another batch of butter pecan. Other ice cream flavors include Thai iced tea, green matcha and red adzuki bean. And, yes, there are vegan options. And there are plenty of traditional flavors too. Another flavor that may surprise you is the Szechuan Spicy Girl — a savory ice cream made from brown pepper corns, red chili oil and peanuts with dried red pepper flakes.
There's also hot chocolate and several winter-inspired flavors like apple pie, maple walnut and even affogato hot chocolate (a dollop of ice cream over hot chocolate). Given its location directly in front of Pentagon Row's ice rink, many customers visit after an ice-skating session. Just a block away from Pentagon City Metro, the location is easy to get to by bus, walking, Metro or by bike. Rollin says all his tourist customers get there by Metro. His employees walk, get dropped off or take Metro.
So think about what flavor you'll order and walk, bus, bike or Metro over to Mimi's Handmade Ice Cream. Rollin says he's currently working on a red guava (sorbet & ice cream), a Persian influenced bastani sonnatí, black sesame paste and a cucumber sherbet.

Mimi's Handmade Ice Cream
1301 S. Joyce St.
Arlington, VA 22202
Go car free to Mimi's Handmade Ice Cream
Arlington's Bicycle & Pedestrian Counters
Bikes counted
View Counter Data
110 Trail

155

14th Street Bridge

347

Arlington Mill Trail

61

Ballston Connector

0

Bluemont Connector

77

CC Connector

128

Clarendon EB bike lane

94

Custis Bon Air Park

177

Custis Rosslyn

264

Eads NB

21

Eads SB

53

Fairfax EB bike lane

54

Fairfax WB

55

Joyce St NB

18

Joyce St SB

0

Key Bridge East

348

Key Bridge West

272

Military NB bike lane

11

Military SB bike lane

11

MVT Airport South

337

Quincy NB bike lane

34

Quincy SB bike lane

45

Roosevelt Bridge

0

Rosslyn Bikeometer

492

TR Island Bridge

193

WOD Bon Air Park

0

WOD Bon Air West

0

WOD Columbia Pike

176

Wilson WB bike lane

77
Peds counted
View Counter Data
110 Trail

294

14th Street Bridge

120

Arlington Mill Trail

6357

Ballston Connector

863

Bluemont Connector

791

CC Connector

339

Custis Bon Air Park

413

Custis Rosslyn

339

Eads NB

0

Eads SB

0

Fairfax WB

0

Joyce St NB

28

Joyce St SB

0

Key Bridge East

1423

Key Bridge West

494

MVT Airport South

217

Roosevelt Bridge

0

TR Island Bridge

547

WOD Bon Air Park

0

WOD Bon Air West

0

WOD Columbia Pike

334
All counters, YTD
View Counter Data
Year to Date

6060586