The Market Place
Partner Spotlight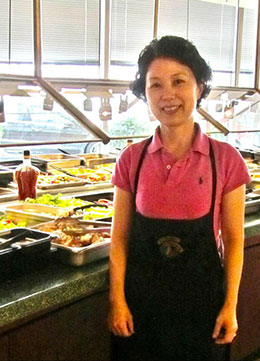 Sunny Kang, Co-Proprietor
Working with family members may not be the ideal situation for everyone, but for Sunny Kang, co-proprietor of The Market Place in Ballston, it's a way of life that she cherishes. Sunny and her husband, Young, along with her sister, Chong, start their day early to make sure the food they serve is always fresh. Chong arrives each day at 3am from her home in Alexandria and begins to prepare over 50 different types of food. Young is responsible for buying the food and shopping everyday for the freshest ingredients. Sunny is the smiling face that greets their customers, making sure they leave with a full stomach and a smile on their face.
The café has been open for six years and serves a variety of both American and Korean cuisine. In addition to fresh salad and vegetables, a daily special is available, ranging from baked salmon to chicken quesadillas. Some of the Korean specialties that Sunny's sister prepares include Bi Bim Bap, a delicious combination of mixed rice, vegetables, and Korean grilled beef as well as short ribs and fried vermicelli noodles. Sunny tells us "my sister and I are always trying new recipes, testing the food before we put it out for customers. We know that if we don't like how it tastes, neither will our customers!"
Sunny and her husband spent many years working in other businesses before they saved enough money to open the café. It was always Sunny's dream to have their own business, and with Chong's cooking skills, it was a great combination of business know-how and long-term cooking experience.
Sunny and Young carpool to work each day. After he drops Sunny at the café, he takes the car and runs errands to procure all the food for the restaurant. Of the 10 employees, 9 of them take the bus and metro to work. "Arlington is very convenient for our employees and customers" says Sunny. "One of our best customers moved their office to Clarendon and the employees take the metro to Ballston, just to eat at our café."

One of the benefits of being located in an area surrounded by office buildings is that the café can close in the evening and weekends since the commuters go home after work. Sunny and her husband enjoy spending the weekends with their daughter and young grandson. It's a wonderful benefit to have in an industry that traditionally requires long evening and weekend hours.
Sunny is very pleased that her café has become a gathering place in the community. Many people come on a regular basis, especially after 2pm when the food is discounted. "Many of our customers come in the afternoon and buy dinner to take home with them each day." In addition to the café, Sunny also offers catering for special occasions, including weddings, office parties and holiday parties. They also offer delivery service during the day. When asked if she did any advertising to attract customers, she smiled and said, "my customers are my best advertisement. They tell their friends and co-workers and I make sure that everyone who comes here to eat has a pleasurable experience."
The Market Place
4100 N Fairfax Drive
703-875-9195
Transportation Options