This Is Fine Coffee
Jason Blevins & Anya Tsybko, Owners
What do you get when you mix a cinematographer with a journalist? What you'd least expect is a coffee shop, but that's just what Jason Blevins and Anya Tsybko have done in Courthouse. The couple has opened a local cafe that somewhat pays homage to one of Arlington's oldest coffee shops —Java Shack which closed in 2019. They use the same roasters and all of their baristas are former Java Shack employees, Jason included! They're also set on making This Is Fine Coffee a local community haven, not just another chain coffee shop. In Jason's words, "we take coffee seriously, but we're not coffee snobs." At This Is Fine you'll find a micro cinema, local artwork, poetry, and board games. Clearly, they want you to stay awhile and make this café your new community hangout.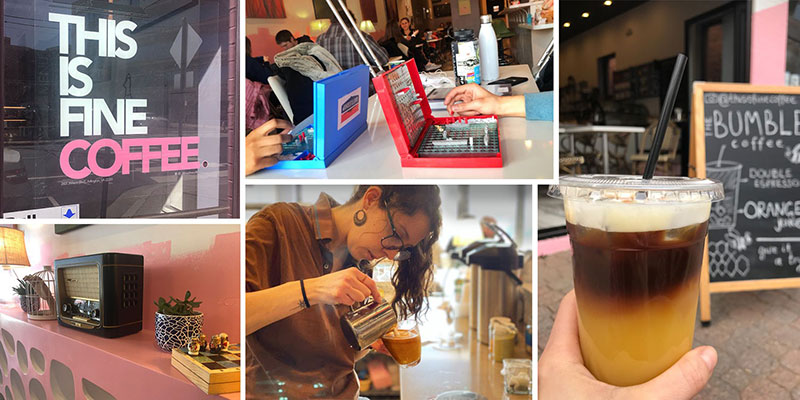 Jason and Anya live nearby and are completely car free. When they need a car, they use Zipcar. They walk to work, use Metro, bus, or they sometimes bike. It comes as no surprise then that once This Is Fine opened, Jason contacted Arlington's Car-Free Diet to become a Car-Free Diet Partner.
There's a very eclectic crowd that comes, but one thing is for sure, many of the Java Shack regulars have found a new home at This Is Fine Coffee. They are finding new items on the menu too, such as the Bumble, a popular drink in Russia. It's a layer of orange juice, caramel and espresso poured over ice with a white foam on top to simulate a bumblebee. Another popular item is the pear-pecan loaf and most recently, the blueberry-lemon loaf, which disappeared within an hour of coming out of the oven. If you've recently visited This Is Fine, you'll want to return to try a new drink — the Atonic Bomble. Without fully giving it away, let's just say it has ghost pepper syrup and tonic water as part of the ingredients.
Since COVID-19, business has slowed, but This Is Fine remains open with modified hours. Visit them for take-out or outdoor seated service Monday-Saturday, 8:00 am-3:00 pm. and Sunday 9:00 am -3:00 pm.
People are coming in for a new product -- bottled brewed concentrate with customized back labels whose message changes out regularly. Jason has used the extra time to take on a big endeavor. He's installed a micro cinema in the back complete with surround sound, blackout curtains and ceiling. He put out a call for entries and received 1600 submissions worldwide. He curated them into a film festival, called "Future Archive Series" which now focuses on quarantine films. Consider it a walk-through museum where you can view short films that range from 1 to 40 minutes in length. Once restrictions are lifted, more people will be allowed to enter the micro cinema and enjoy a seated experience. Later he plans to feature vintage 1920's Ukrainian films.
Learn how to go car free to This Is Fine Coffee.
This Is Fine Coffee
2607 Wilson Blvd.
Arlington, VA 22201