Twisted Vines Bottleshop & Bistro
Partner Spotlight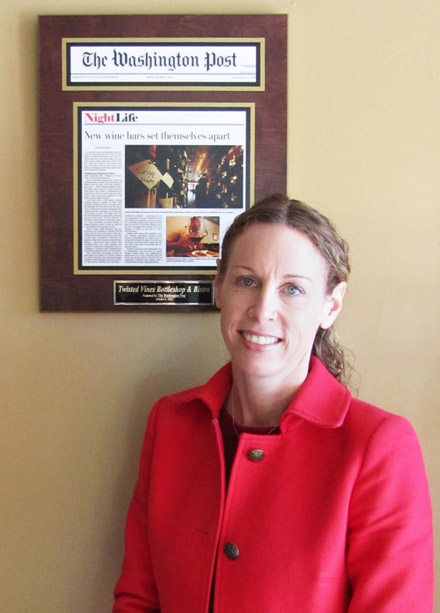 Sybil Robinson, Co-Owner
Twisted Vines Bottleshop & Bistro was born out of a vision for a community gathering place--where people could come with their family and friends to sample great wines paired with delicious food. "We live on the (Columbia) Pike and just really believe in this area," says Sybil Robinson, co-owner, with her husband Josh. "Back when we were thinking about starting this, we just knew that if this area was going to grow, it really needed a wine bar to stand out and connect the community."
Sybil and Josh took their idea to their neighbors, friends, and area business owners, who all loved the concept and agreed that it was time to bring something new and unique to the Pike. "We were definitely excited and we were definitely scared, but our community had faith in us. Today, business is growing steadily and in proportion to the development of the community around us. We've become known as a kind of upscale "Cheers" here on the Pike."
With over 20 wines offered by the glass and over 100 bottles to choose from, Twisted Vines offers a thoughtful selection that features varietals from small producers around the world. Patrons can enjoy a glass, or tastings, along with a diverse menu that features charcuterie, cheeses, sharing plates, salads, entrees and desserts. Weekend brunch is served from 10am to 3pm and features selections like Brioche French Toast and Croque Monsieur (Gruyere, Fontina, baked ham and béchamel sauce on sourdough bread), mimosas and Belinis.
Since many of the regulars to Twisted Vines come from the neighborhoods, getting there on foot or by bike (there are two Capital Bikeshare stations nearby) are popular choices. Bus transit is also a convenient option. "The majority of our guests can walk in," says Robinson. "But this location is growing and a lot of people come on the bus, too. It's very easy to arrive, for example, from the District by riding Metro to Pentagon City and then taking any of the Pike Ride 16 buses up to Columbia Pike."
Twisted Vines Bottleshop & Bistro
2803 Columbia Pike
571.482.8581
Transportation Options