Whitlow's on Wilson Bar & Grill
Partner Spotlight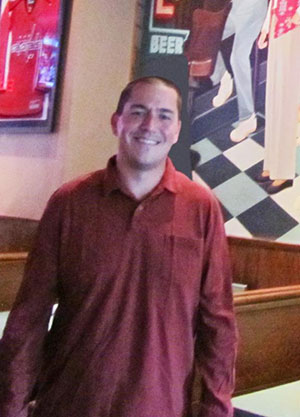 Emmanuel Fliakas, General Manager
While many know Whitlow's on Wilson as a popular Clarendon bar and grill, not many realize that the establishment has its roots in northwest D.C. At its first location, on the corner of 11th and E Street, the diner was a District staple from 1946 to 1989-when it "temporarily" closed its doors to accommodate a major neighborhood redevelopment. The slated reopening took several years longer than expected, but in 1995 Whitlow's finally reopened on Wilson Boulevard in Arlington.
With the move to Arlington, it didn't take long for Whitlow's to re-establish itself as a popular neighborhood hot spot. "Clarendon was just the right place," says Emmanuel Fliakas, general manager. "I'm actually from this neighborhood, and I've watched it develop from a four-block strip to the thriving urban space that it is now."
Familiar classics make up a menu that spans everything from bar food to original dishes. Favorites include the WOW Panini (stuffed with chicken, Mozarella, lettuce, fried tomatoes, portobello mushrooms and southwestern pesto), a Whitlow's take on Chicken N' Waffles, and Margarita Chicken with Penne (Tequila-marinated chicken, onions, tomatoes, penne, and jalapeñocream sauce). "Over the years, our menu has changed and evolved to include a little something for everyone," says Fliakas. This includes the popular happy hour, family-friendly atmosphere, and weekend brunches. "If you want to try something different, go for our Blackened Catfish. It's my favorite."
Good food is enjoyed in a casual atmosphere with a focus on historical décor including re-purposed fixtures. The bar top is made from an old Baltimore bowling lane, booths came from St. Patrick's Catholic Church in DC, and there are chairs from the old Arlington County Courthouse building. Even the original stove, where Whitlows' famous turkey dinners were once cooked, greets patrons at the entrance.

The actual size of Whitlow's is much larger than it appears. The restaurant is divided into the main dining area, the Sand Bar (a room for private parties), the back patio and the rooftop for a total capacity of about 800 people. "The rooftop, when it's open, attracts a younger demographic and it's really become a place to be seen," says Fliakas. "Our regulars who just want a great meal and friendly atmosphere are usually found downstairs. Weekends and brunch are when you can experience the totality of the place."
As any business owner knows, location is key. And Whitlow's on Wilson couldn't be more ideally situated. "There's not a lot of parking in Clarendon, and it's for a good reason since the area is designed to be walkable and bikeable." Fliakas says. "We benefit tremendously from being two and a half blocks from the Clarendon Metro station and so close to two Capital Bikeshare stations. When someone calls for directions, the first thing we tell them is their alternative transportation options."
Whitlow's on Wilson Bar & Grill
2854 Wilson Blvd.
703.276.9693
Transportation Options