Transit How-To Guide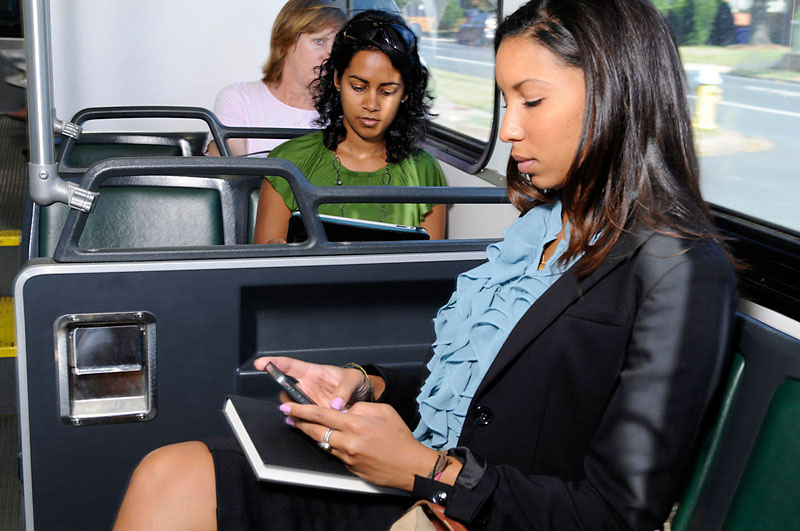 With buses and trains making stops all over Arlington, riding transit is one of the simplest, most convenient ways to travel in this area. Here's everything you need to know to get started.
How to Pay for Transit
SmarTrip Cards
Carry a SmarTrip card, and you can leave your cash at home. SmarTrip cards are permanent, rechargeable fare cards that make paying your transit fares fast and easy. They can store the value of many trips (up to $300 worth), pay for Metrorail, Metrobus and ART fares, pay for parking at Metro parking facilities, and save you money with automatically discounted bus and transfer fares.
The bright yellow Senior SmarTrip card gives riders ages 65 and older discounted fares on Metrobus and Metrorail. You need to show a valid government issued photo ID with proof of age when purchasing the card.
The Student iRide SmarTrip card lets Arlington elementary, middle and high school students ride ART for the discounted fare of $1.00. It can also be used on Metrobus, Metrorail and other transit systems that accept SmarTrip cards for the regular fare.
You can buy SmarTrip cards at any Commuter Store or online at CommuterDirect.com, with or without stored fare value. SmarTrip cards are permanent. Add value to them at the fare machines in any Metrorail station, at the fare box on ART and Metro buses, at any Commuter Store, and at many CVS Stores and Giant Food Stores.
ART & Metrobus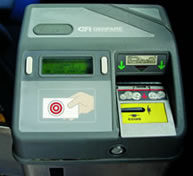 The regular fare for ART and Metrobus is $2.00, using a SmarTrip card or cash. Senior citizens and people with disabilities pay $1.00 with proper ID. Arlington elementary, middle and high school students with IDs ride ART for $1.00 through the iRide program. Riders using SmarTrip cards receive free or discounted transfers.
To pay your fare, insert your money (exact change only) into the fare box – or tap your SmarTrip card on the circular target on top of the fare box – when you first board the bus.
Metrorail
Metrorail fares vary depending on the time of day and distance traveled. Fares must be paid with a Metro SmarTrip card. With a SmarTrip card, minimum peak (rush hour) fare is $2.25; minimum off-peak fare is $2:00. SmarTrip card fares range from $2:00 to $6.00.
SmarTrip cards can also be used to pay fares on Metrobus and local bus systems in the D.C. area.
SmarTrip cards can be purchased from vending machines at Metrorail stations, from the Commuter Store, or online at CommuterDirect.com. Senior citizens and people with disabilities are eligible for a discount – seniors can purchase discounted SmarTrip cards at the Commuter Store, the Metro Sales Office, 600 Fifth St. NW, Washington DC, or at other retail locations.
SmarTrip Card Transfers
If you take more than one Metrobus, ART bus, or train on a single trip, and pay with a SmarTrip card, you will receive a discounted fare. Bus-to-bus transfers are free within two hours. Riders who transfer from Metrorail to bus, or from bus to Metrorail receive a 50¢ discount.
How to Read a Timetable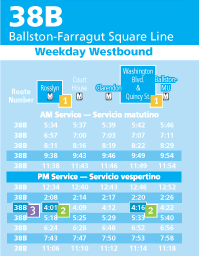 The easiest way to find bus times and schedules is to use Metro's Trip Planner, ART's online schedules, CommuterPage.com's online schedules or CommuterPage.com Mobile Services. But for times when you're not near a computer, here's how to read a printed schedule:
Look at the top row of the timetable to find the stops closest to where you'll get on and off the bus. Stops listed on the schedule are "timepoints." Don't worry if you don't see your actual stop listed – there are lots more stops in between the timepoints.
Move down the columns to see what times (am and pm) buses arrive at each stop. If your stop isn't listed, use the time shown for the stop right before it, since it's better to get there too early than too late.
Follow the row with the times you want on it to the left to see which bus you should board.
Four Easy Steps to Start Riding Transit
1. Find Your Bus or Train
Step outside anywhere in Arlington County, and there's a good chance you'll find a bus or Metrorail line nearby. If you see a stop near you, note its route number, letter or line color. If you don't know what bus or train to take, here are two options you can use:
Car-Free Near Me: Enter an address and it shows you all the transit options nearby with real-time arrivals for Metrorail, Metrobus, Arlington Transit-ART, DC Circulator, Capital Bikeshare and Zipcar, Montgomery County RideOn and Prince George's County The Bus.
Metro's Trip Planner: Type in your starting and ending addresses, and it'll show you how to get there using Metrorail, Metrobus, ART and other local bus systems.
2. Check the Time
There are lots of places to find out what time you can catch a bus or train – information posted at bus stops, printed schedules at any Commuter Store, Metro's Trip Planner, CommuterPage.com online schedules, CommuterPage.com Mobile Services, ART - Arlington Transit's online schedules, or by phone at 703-228-RIDE (7433).
3. Go to Your Stop
All ART, Metrobus and Metrorail stops are clearly marked with distinctive signage. Find one of these signs, and you've found a stop:
| | | |
| --- | --- | --- |
| | | |
| ART | Metrobus | Metrorail |
Try to get to your stop five to ten minutes ahead of time.
4. Climb Aboard
When a bus or train arrives, check its line number and route name to make sure it's the one you want. Have your SmarTrip card out and ready to tap on the fare box or make sure you have the exact fare in cash. Metrorail only accepts SmarTrip, not cash.