Ballston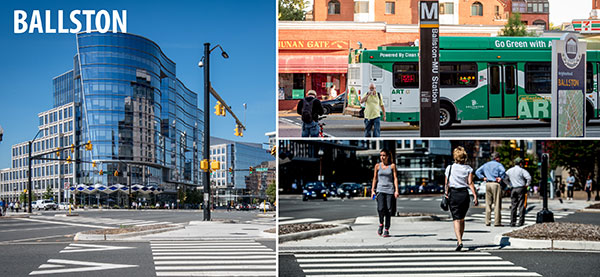 Ballston is a vibrant mix of retail, residential, office buildings, and green space on the Wilson Boulevard - Clarendon Boulevard - Orange/Silver Line corridor in Arlington. The Ballston-MU Metro station is a major transit hub, connecting ART and Metrobus with Metrorail's Orange and Silver Lines. Fairfax Drive and Quincy Street have on-street bicycle lanes, connecting to the Custis and Bluemont Junction trails. There are Capital Bikeshare stations every few blocks.
Ballston features one of the four Arlington locations of the Commuter Store, where you can buy transit tickets and passes or pick up a bus schedule, and where knowledgeable staff will answer your questions about walking, bicycling, or using bus or rail service in the area. The Ballston Commuter Store is on the Metro plaza (kiosk at the top of the Metro escalator).
Choose a subtopic at right or below to read more about Ballston.
Ballston Links