Columbia Pike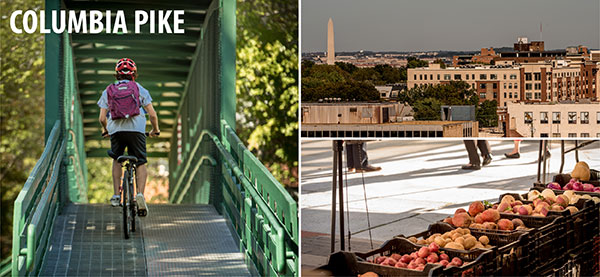 Columbia Pike is one of two Arlington's Urban Villages that is a linear corridor. (The other is Langston Boulevard, formerly Lee Highway.) The Pike stretches across south Arlington, from Arlington Cemetery and Fort Myer on the east end, to Arlington's western border with Fairfax County.
Pentagon Metro station, served by Metrorail's Blue and Yellow lines, is at the eastern end of Columbia Pike. There's no Metrorail service along the corridor, but Metrobus and ART provide frequent bus service along the Pike, with connections to Metrorail at Pentagon, Pentagon City, Ballston, Farragut West, Farragut North, and McPherson Square. The combined bus service, known as Pike Ride, has a rush hour frequency comparable to Metrorail, and frequent service all day.
Columbia Pike intersects the region's extensive trail network near Four Mile Run, where it crosses the W&OD and Four Mile Run trails. There's also a connector trail at the eastern end of the Pike, near the Pentagon, which leads to the Mt. Vernon Trail and bridges across the Potomac, to D.C.
Choose a subtopic at right or below to read more about Columbia Pike.
Columbia Pike Links