Crystal City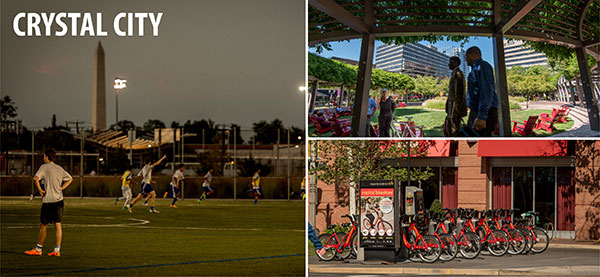 Crystal City is a fascinating complex of office buildings, residential high-rises, shops, restaurants, and hotels, all near the Crystal City Metro station on Metrorail's Blue and Yellow Lines. Crystal City features dedicated transit lanes and Metroway, WMATA's premium bus service, operating between Pentagon City and Braddock Road Metro station in Alexandria on a dedicated transitway.
Crystal City streets feature a network of separated and on-street bike lanes, and a connector trail near the Metro station leads to the nearby Mount Vernon Trail. The Four Mile Run Trail is about a mile south of the Metro station with bike lanes and the Mt. Vernon Trail making the connection. There are Capital Bikeshare stations throughout the neighborhood.
Crystal City is also home to one of the four Arlington locations of the Commuter Store, where you can buy transit tickets and passes, pick up a bus schedule, and have your questions about walking, bicycling, or transit answered by knowledgeable staff. The Crystal City Commuter Store is in Crystal City Shops. To get there: take the Metro escalator at 18th and Clark Streets down (or up from the Metro platform) to the landing for the entrance to Crystal City Shops on one side. Go through the entrance and the Commuter Store is the second retailer on the right, across from Dunkin' Donuts.
Choose a subtopic at right or below to read more about Crystal City.
Crystal City Links