Shirlington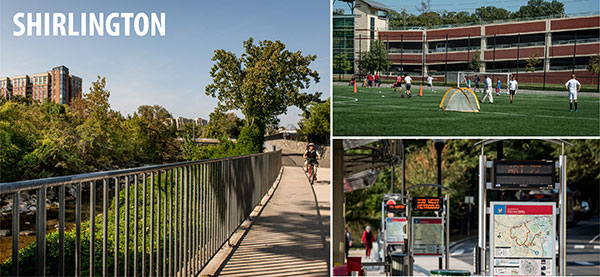 Shirlington is a walkable, bikeable urban village, served by ART, Metrobus and DASH. Shirlington offers a stylish collection of restaurants and entertainment options, including Signature Theatre, surrounded by a mix of office and apartment buildings and row houses.
Shirlington doesn't have it's own Metrorail station, but is served by a network of Metrobus, ART and DASH routes that take commuters to the Pentagon City and Crystal City Metro stations, among other destinations. Bike-friendly streets, bike lanes on Quincy, Randolph, and 34th streets, and a bike-pedestrian bridge over I-395 connect Shirlington to the Four Mile Run Trail.
Shirlington Bus Station is Arlington's only enclosed bus station. It's a major bus transfer point, and home of one of the four Arlington locations of the Commuter Store. The Commuter Store sells transit tickets and passes, offers free bus schedules and other publications, and has knowledgeable staff to answer your questions about walking, bicycling, or using bus or rail service in the area.
Choose a subtopic at right or below to read more about Shirlington.
Shirlington Links