ACME Pie Co.
Sol Schott, Owner/Chef
As you walk downstairs, the aroma of coconut custard and cherry rise to greet you from the kitchen, so does a medium height figure resembling Danny Zuko from "Grease." Meet Sol Schott, owner and baker of ACME Pie Co. Sol removes several coconut custard pies from the oven that will get prepped and finalized for delivery. Another employee hand crimps the crust perfectly as if a machine had creased the dough, one hand rotating the piecrust while the other crimps. With numerous years of experience, it's easy to see why the pies look perfect.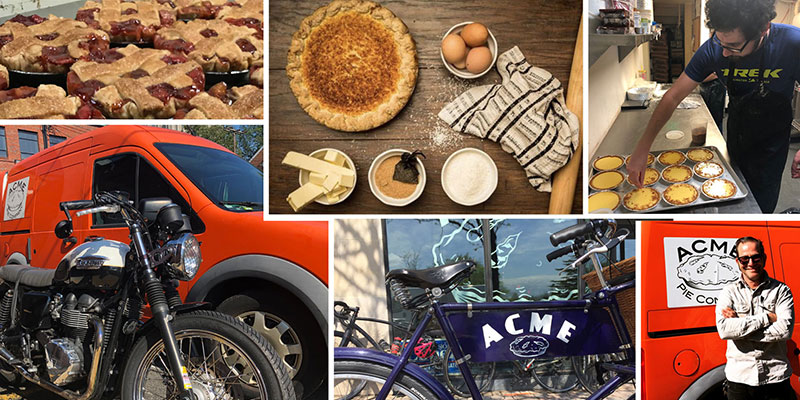 What's more interesting is how Sol started his business. He began by biking around Arlington and selling his pies to local businesses such as Java Shack and farmers markets. He went on to rent kitchen space from then Twisted Vines Bar and Bottleshop for six years. At the beginning of 2019, an opportunity presented itself to Sol and he acquired the upstairs as well avoiding the need to move. He now has a storefront to sell and showcase his pies. Sol, a long time Arlingtonian, loves Arlington and especially Columbia Pike because of its friendly and down-home feeling. Being on the Pike, Sol sees the value of the Car-Free Diet and says he sees it play out on a daily basis. With a Metrobus and ART bus stop right outside, a bike shop next door and a nearby Capital Bikeshare station — his store sees many cyclists and pedestrians. Even a local racing club starts their rides from the shop each Saturday.
Sol's staff walks the talk to promote Car-Free Diet. One employee takes the bus everyday to work from Falls Church, which drops her off directly in front of the store. Another employee and avid cyclist, Jake, was on the national cycling team when he was 16 and then went on to become a bicycle mechanic for Trek. Even Sol will come to work without a car. He leaves the delivery van at work, which allows him to commute by bicycle or on his vintage Triumph motorcycle. Having the van parked at work makes it available later on for deliveries.
Sol usually has about five different pies to sell, both sweet and savory. When asked what the hot seller is, he says watermelon peach and blueberry with lemon curd.
Learn how to go car free to ACME Pie Co.
ACME Pie Co.
2803 Columbia Pike
Arlington, VA 22204