Arlington Mill 55+ Senior Center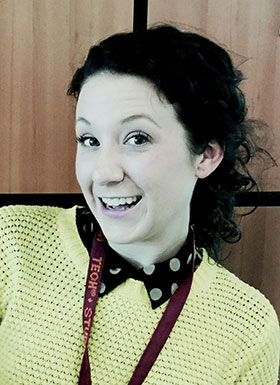 Jennifer Weber, Director
"People in Arlington really are active, they take care of themselves" says Jennifer Weber, Director of the Arlington Mill 55+ Senior Center. She thinks it may be because of the programs here.
"Those who come here always impress me" she added.
Arlington Mill, as well as the five other senior centers in the county, offer a number of fitness, recreation, education and social programs. Popular fitness programs at Arlington Mill include Pilates, Healthy Hips and Shoulders and a gentle yoga class. Weber says that Arlington's seniors benefit from having wonderful instructors who would be in high demand at any fitness facility.
Arlington County residents who are 55 and older can get a 55+ Pass for $20/year. It entitles them to free or discounted classes, programs and trips. The new 55+ Gold Pass at $60/year for Arlington seniors allows access to all Arlington fitness facilities when they are open, as well as the discounted and free classes, programs and trips.
One of Arlington Mill Senior Center's members, Sandi Sternberg, frequently uses Arlington's bus system, especially along Columbia Pike. She's lived in the county a long time and can recite the bus schedule from memory. But Sandi wants to have transit options. She looks forward to getting a bicycle to get around on nice days or just ride for fun.
Unfortunately living on a fixed income makes the purchase of a bicycle difficult for Sternberg. She hopes there's an opportunity to get a bicycle through Phoenix Bikes' Give-a-Bike program where youth refurbish a bike to donate to someone in the community. Arlington Mill has created a list of seniors who want bikes, and the executive director of Phoenix Bikes has visited the center.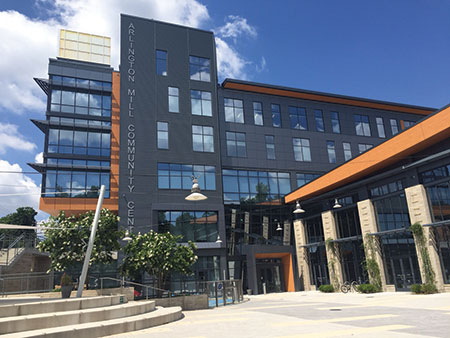 Arlington Mill 55+ Senior Center
Jennifer appreciates Sandi's desire to have multiple transit options available. Coming home from a festival in DC one day Jennifer noticed that the next Metro train was arriving in 20 minutes. She thought to herself, "you know what, it's such a beautiful day, why not take Capital Bikeshare home?" The ride from the Mall took her over the Memorial Bridge then up the hill to a dock near her home in Clarendon.
She also uses bikeshare to get to Shirlington for lunch.
"It's very reassuring having multiple ways of getting around town," Weber says. "I save money by taking bikeshare when the trip is under 30 minutes."
Arlington Mill 55+ Senior Center
909 S. Dinwiddie Street
703.228.7790
Transportation Options