Arlington Public Library
Partner Spotlight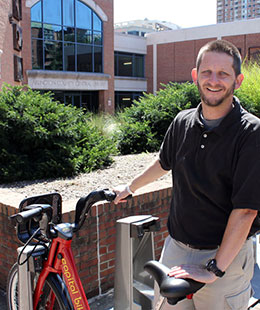 Peter Golkin, Public Information Officer
"My two favorite things in life are libraries and bicycles. They both move people forward without wasting anything." -- Peter Golkin
Peter Golkin, Public Information Officer, Arlington Public Library, says, "Arlington has to be one of the most supportive communities in America - our citizens place a high value on these public resources." This support is evident in the overwhelming community response to the depth and variety of library services and programs. One example is when Central Library hosted naturalist Wendell Berry for the Arlington Reads program. The crowd that came to hear him talk formed a line that wrapped outside and around the adjacent tennis courts. Another example is the popular children's summer reading program, which continues to grow each year.
"We're seeing new generations get addicted to their public libraries. We're seeing a lot of young faces around here, right along with older crowds," says Golkin.
In any given month, the network of nine branches offers programs and events for just about any interest or avocation, from family story time, career development, education and book clubs, to name just a few. In addition to library services and the availability of professional librarians to help with in-depth research projects, online resources are also available.
"Our online branch is the second busiest in the network," says Golkin. In fact, thousands of books, films and reference materials can be digitally checked out and delivered instantly to a myriad of devices. This resource is becoming increasingly popular across the County, and functions similarly to brick-and-mortar branches. All you need is an Arlington Library card.

Whether you like to roam the stacks, have the convenience of an online branch or enjoy the many events and programs offered all year long, check out the Arlington Public Library. You might be surprised.
Golkin, an avid proponent of alternative transportation, encourages patrons to leave their cars at home. "On a beautiful day like today, walking or biking to the library can be an incredible experience," he says. "Just take a look at our calendar for something that looks interesting, and come on over."
Arlington County Library Locations
Arlington Central Library
1015 N Quincy Street
703.228.5990
Transportation Options
Arlington's Bicycle & Pedestrian Counters
Bikes counted
View Counter Data
110 Trail

155

14th Street Bridge

347

Arlington Mill Trail

61

Ballston Connector

0

Bluemont Connector

77

CC Connector

128

Clarendon EB bike lane

94

Custis Bon Air Park

177

Custis Rosslyn

264

Eads NB

21

Eads SB

53

Fairfax EB bike lane

54

Fairfax WB

55

Joyce St NB

18

Joyce St SB

0

Key Bridge East

348

Key Bridge West

272

Military NB bike lane

11

Military SB bike lane

11

MVT Airport South

337

Quincy NB bike lane

34

Quincy SB bike lane

45

Roosevelt Bridge

0

Rosslyn Bikeometer

492

TR Island Bridge

193

WOD Bon Air Park

0

WOD Bon Air West

0

WOD Columbia Pike

176

Wilson WB bike lane

77
Peds counted
View Counter Data
110 Trail

294

14th Street Bridge

120

Arlington Mill Trail

6357

Ballston Connector

863

Bluemont Connector

791

CC Connector

339

Custis Bon Air Park

413

Custis Rosslyn

339

Eads NB

0

Eads SB

0

Fairfax WB

0

Joyce St NB

28

Joyce St SB

0

Key Bridge East

1423

Key Bridge West

494

MVT Airport South

217

Roosevelt Bridge

0

TR Island Bridge

547

WOD Bon Air Park

0

WOD Bon Air West

0

WOD Columbia Pike

334
All counters, YTD
View Counter Data
Year to Date

6060586