Bakeshop
Partner Spotlight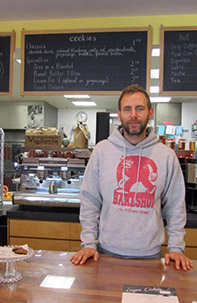 Justin Stegall, Owner
While growing up in Great Falls, Bakeshop owner Justin Stegall not only played a lot of sports, but also learned how to bake from his mother. "I loved desserts and started cranking out cakes and cookies. For a kid it's good because you have a tangible reward, something you can eat," Stegall says.
After he finished college, Stegall needed to sharpen his skills and learn how to run a business. He worked as a finisher at a bakery in Brooklyn, adding the final touches to baked goods. When he moved back to Virginia he began selling his cakes and cookies online and delivered them to local restaurants and cafes.
In 2010, Stegall opened Bakeshop in Clarendon and focused on American classics - cakes, cupcakes and cookies - the items he learned to bake growing up. Bakeshop's menu lists 32 flavors of cakes and cupcakes with at least a dozen flavors available each day.
The first day they made macaroons, they sold out so fast that they were soon added to the menu. Also due to customer demand, pies soon followed along with vegan cookies and cupcakes. But Stegall's biggest surprise has been the popularity of layer cakes, especially for birthdays.
The right staff plays a critical role in the success of any business. "No one ever tells you in school about how hard it is to staff a business, but it's been rewarding because they're [staff] good people, and they love what they do."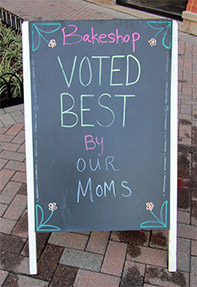 Bakeshop is located in a quiet residential area of Clarendon and close to many transportation options. Stegall walks or bikes to work each day as do most of his staff. "A lot of customers also walk or bike in from the neighborhood," he said.
Stegall appreciates not having to deal with traffic. "People need to walk or bike more. It's healthy. Burn the calories and get hungry."
Bakeshop
1501 Wilson Boulevard
703.879.4388
Transportation Options