Ballston Business Improvement District (BID)
Partner Spotlight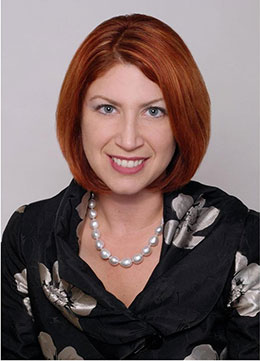 Tina Leone, Executive Director
With experience that includes President/CEO of the Alexandria Chamber of Commerce and Lorton Arts Foundation, Tina Leone slid easily into her role as Executive Director of the newly established Ballston Business Improvement District (BID) this past December.
That's because she enjoys a challenge and working to strengthen communities. She described the change as an opportunity to design a new canvas for a whole new community.
"I take it very much to heart," she said. "When you work for nonprofits, you're working with other people's money; you need to take good care, use it wisely, and be accountable."
Raising the bar from "a good place" to "a great place" is one of the key charges when the Ballston BID was launched. Leone is enthusiastic about upcoming improvements in making Ballston a premier live-work-play community.
"One example of something we want to improve is pedestrian walkways," says Leone who understands that mobility can come in many forms. "We're looking at transit not just [in terms of] cars, but also buses, or bikes, or walking."
The BID's Placemaking Plan is in full swing as they review options of integrating transportation and mobility along with the parks, landscaping, and gateways into Ballston. They are working with the county to see how they can improve intersections. "We want to make sure people feel safe crossing the street," she says.
At the time of this interview Leone was preparing to move from Alexandria where she has resided for 11 years to the Ballston area, a welcome change to better connect with her new community.
And what better way to learn about your neighbors than walking the beat with a couple of furry, four-legged friends? Connecting to neighbors is nothing new to Leone who regularly strolls the local neighborhoods with her two Brittany spaniels, Rita and Cathy.
In addition to walking to do errands, Leone has made a concerted effort to combine car trips whenever possible to reduce the number of single occupancy vehicles on the road.
"Yesterday I had to go to four places so I combined it all into one trip," said Leone of her trip to the dry cleaner, pet store, pharmacy, and grocery store.
As an employer, she champions telecommuting as a positive Car-Free Diet option for business partners.
"Telecommuting is important. You give people flexibility and an opportunity to spend more time with their family," said Leone. "You build employee loyalty, a great relationship, and higher retention rate." Her advice to employers weighing the benefits is to think of the long-term gains. Telecommuting also reduces the congestion and frees up parking availability.
What's coming up for the busy new executive director? She recently hired an Information Specialist, will be working with the Capital Bikeshare Program, and is excited about the Taste of Arlington which will celebrate its 25th anniversary this year on Sunday, May 20.
Ballston BID
901 N Glebe Rd., Ste. 806
Arlington, VA 22203
703.786.6037
Transportation Options