Barcroft Sports & Fitness Center
Partner Spotlight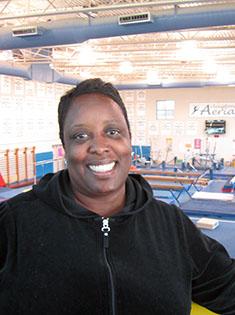 Shannan Holt, Manager
"I love recreation because it's happy," says Barcroft Sports & Fitness Center manager Shannan Holt, with a smile. Situated between Columbia Pike and Shirlington along Four Mile Run and the W&OD Trail, the Center is one of Arlington County Parks & Recreation's eleven community centers. Holt started working for the county at Lubber Run Park in 1998, moved to Gunston Community Center then Barcroft as an assistant manager in 2004. She's been the manager since 2005 and appreciates how long her staff members stay in their positions.
Both Arlington residents and non-residents can use the facilities at Barcroft or any of the other community centers with a one day pass or with a 3-month, 6-month or annual membership. Youth and adults can participate in a number of activities at Barcroft including floor hockey, basketball and boxing. The Center also has a fitness center with cardio, strength machines and free weights. Members can participate in yoga, Zumba and aerobics classes held in the wellness studio.
Barcroft is also the home of the Arlington Aerials, the county's gymnastics program run by Carly Meyer, a former gymnast and experienced gymnastics coach who has been with the program since 2001. Arlington Aerials holds gymnastics classes for all levels from toddlers to adults.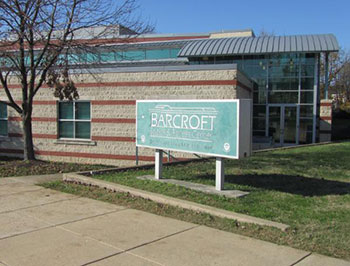 Barcroft is located right on the W&OD Trail, so many people walk or ride their bikes to the facility. Parents frequently ride there with trailers or seats for their kids. Metro buses stop within a 1Ž4 mile, and there's a Capital Bikeshare station at Four Mile Run and George Mason Drive a short walk from the center.
Holt only recently discovered how fun it is to ride a bicycle. A few years ago she had signed up for adult cycling classes, but never attended. What got her interested again was the fact that several of her coworkers would ride and talk about how much fun they had. One of them told her, "I'll teach you to ride." "He took the pedals off and taught me how to balance myself. I rode around in the gym," says Holt. On one of her more recent bike rides, she rode around Haines Point in Washington, DC with some coworkers. Holt said, "I couldn't believe I rode so many miles. I wasn't exhausted. We had so much fun."
Barcroft Sports & Fitness Center
4200 S. Four Mile Run Drive
703.228.0701
Transportation Options