Bayou Bakery Real Food For Kids Program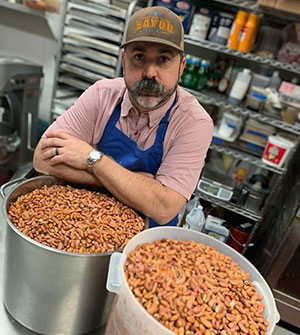 Chef David Guas is a local fixture and an active Car-Free Diet partner with his New Orleans-inspired eatery, Bayou Bakery. Normally he's providing a taste of the Big Easy with coffee, sweets and southern fare. However COVID-19 has changed that dynamic for David, his staff and the community. Within 24 hours of schools shutting down, David switched gears and put his new initiative, Chefs Feeding Families into action by setting up an outside kitchen in front of his eatery. This initiative supports many children, military households and families affected by the shutdown.
David found himself with a closed restaurant and he was sitting on a lot of red beans so the decision was an easy one. He teamed up with Real Food for Kids and put those red beans to good use. He decided from the beginning not to scrutinize those needing a grab-and-go meal. No ID or proof of need is required. With a nearby homeless shelter already offering meals to their recipients, David wasn't worried about getting any mixed traffic although nobody is questioned if they request a meal. He also wanted to be inclusive of different cultures, so he chose all plant-based meals with no animal proteins. "Our meals are healthy options that don't isolate families based on religious beliefs or dietary choices," said Guas. At the beginning of the program, meals started out as red beans and rice, a popular staple in New Orleans but eaten in many other continents from Africa to South America. Ironically, it was the same go-to meal many families relied on during Hurricane Katrina. Bayou Bakery has expanded that to collard greens, red lentils, arugula pesto with squash, black beans and oven-cured tomatoes.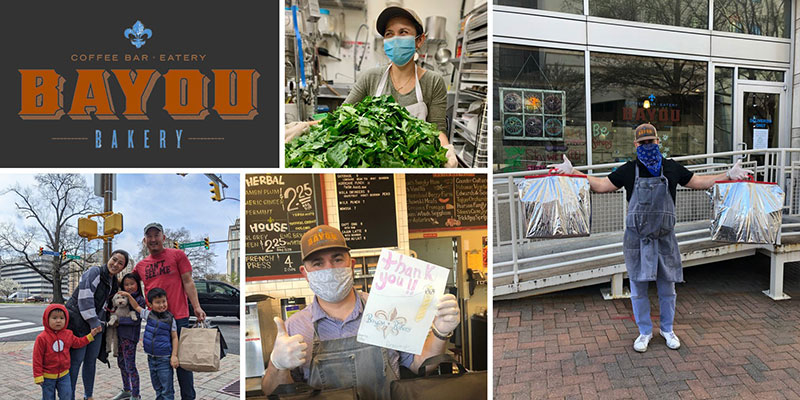 The program also provides much needed work for his kitchen staff by preparing close to 1700 meals per week. Several of his kitchen staff have children at Key Elementary, so David solidified his plan to provide lunch meals to school children and their families. Meal pickup started at Bayou Bakery but has now grown to six locations throughout the County:
Columbia Grove Apartments
Arlington Mill Residences
Harvey Hall
Arlington Ridge Apartments Clubhouse
Patrick Henry Apartments
Park Shirlington Apartments
Columbia Park Apartments
David puts out videos each week to promote the program and get donations for continued support of Chefs Feeding Families. You can learn more on how to donate on their website. Bayou Bakery is currently undergoing renovations. But stop by later this month to see the changes, contribute to Bayou Bakery or just say thank you to David for all his contributions.
Bayou Bakery
1515 N. Courthouse Rd.
Arlington, VA 22201
Go car free to Bayou Bakery.