Buzz Bakery
Partner Spotlight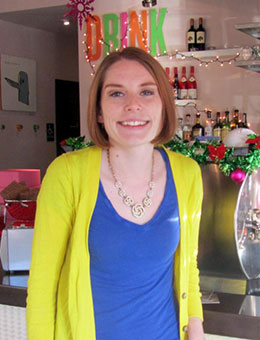 Courtney Blakney, General Manager
The Neighborhood Restaurant Group opened Buzz Bakery in Ballston just over two years ago. With Executive Pastry Chef Tiffany MacIsaac at the helm of the company's pastry program, patrons can count on a mixture of downright deliciousness and whimsical creativity.
MacIsaac and her team's delicious creations have been featured in The Washington Post, Food and Wine, and Modern Luxury DC Magazine. From a grownup version of a "poptart," filled with lemon curd, to her kid pleasing cake pops, MacIsaac continues to innovate new ways to delight the palate.
"Seasonality and fresh, quality ingredients are very important to us," says Courtney Blakney, manager of the Ballston location. "We're also proud of the fact that we have a great selection of gluten-free baked goods that people love. The gluten-free brownie is amazing, whether you're gluten-free or not!"
In addition to traditional early morning coffee and pastries, Buzz Bakery caters to cravings any time of the day. Breakfast might include scones, muffins or waffles. Salads and panini choices are just a couple of lunchtime options. And in the evening, there is premium coffee (Ceremony Coffee from Maryland), teas (Devi and Damman Freres), wine, beer, and even specialty cocktails. And of course, baked goods are available any time! The bakery's signature cupcakes are truly inspired and are as delightful to look at as they are to eat.
There is something for everyone and every taste. Buzz Bakery is good for stopping in to grab a beverage and pastry, as well as, kicking back and relaxing in the welcoming setting with free WiFi. Buzz Bakery offers catering services and their location can also be rented for private events.

Buzz Bakery is located on North Quincy Street and is easily assessable with public transportation. Blakney recommends trying out alternative transportation. "We're right between two Metro stops, Virginia Square and Ballston, and our neighborhood is very walkable," she says. "Or maybe try Capital Bikeshare. There are two stations within two blocks, and our cupcake single boxes fit perfectly in the front basket of the bikes."
Buzz Bakery | Ballston
818 N Quincy St.
703.650.9676
Transportation Options