Cheesetique
Partner Spotlight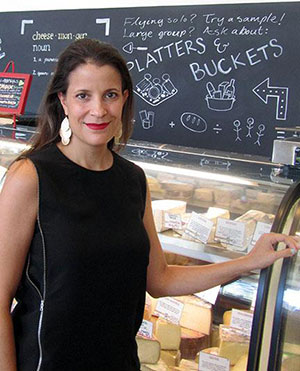 Jill Erber, Owner
"Cheese is what we do. Everything, except for a couple of salads, features cheese to show people what to do with it," says Jill Erber, owner of Cheesetique, which is both a retail store and restaurant. The newest location in Ballston (June 2016) is the third one, following Shirlington (2011) and Alexandria (2004).
Erber left her software development job in 2001 and began working as a salesperson with her brother-in-law who owned a food importation company, helping it expand in the Washington, DC area. "I really learned the food industry and how chefs work with food. That's where I really started learning about cheese," she said. Chefs and their staffs wanted to know about cheese. "As much as restaurants are into this, I'll bet consumers would really take to something like this in this area," said Erber.
She read about cheese, joined the American Cheese Society and even worked briefly on a farm learning to make cheese. When she opened the first Cheesetique in the Del Ray neighborhood of Alexandria she thought that if she could break even, she could just walk to the store and have a little business. Soon after opening she realized the business was more than she could handle herself and began hiring people and expanding the store's hours.
Cheesetique sells a range of cheeses from mild, soft-rind cheeses to blues and stronger ones. Customers visit the store for the experience and to learn something interesting about cheese or the meats, wines and beers the store carries. Customers can also find more varieties of a particular style of cheese. For example, there may be six or eight Goudas instead of one or two.
"When we opened the restaurant I thought, 'I just want to do cheese boards.' We wanted to have an area where people would sit and have a cheese board with a glass of wine," said Erber. Unfortunately, she was required by Virginia to serve hot food with wines by the glass. Without a full kitchen she had to improvise and began serving paninis, grilled cheese sandwiches and mac and cheese. Today cheese and charcuterie boards are still a big part of the business, and all locations serve lunch, dinner and weekend brunch.
Although Erber had focused on other locations, including DC, for her third location, she fell in love with the space when her broker first showed it to her. "People who want to work for us loved the fact that we opened in Ballston because they could walk to work," she said. The area's density of shopping, dining, residential and office buildings also appeals to Erber. "Being near public transit is something that has always been a desire of ours. It's not only so customers can get to us, but so that employees are able to get to us inexpensively, reliably and easily."
Cheesetique (Shirlington)
4056 Campbell Ave.
703.933.8787
Map and Transportation Options
Cheesetique (Del Ray)
2411 Mt. Vernon Ave.
703.706.5300
Map and Transportation Options
Arlington's Bicycle & Pedestrian Counters
Bikes counted
View Counter Data
110 Trail

177

14th Street Bridge

449

Arlington Mill Trail

44

Ballston Connector

36

Bluemont Connector

60

CC Connector

148

Clarendon EB bike lane

1

Custis Bon Air Park

106

Custis Rosslyn

178

Eads NB

9

Eads SB

1

Fairfax EB bike lane

24

Fairfax WB

24

Joyce St NB

39

Joyce St SB

0

Key Bridge East

330

Key Bridge West

203

Military NB bike lane

6

Military SB bike lane

10

MVT Airport South

263

Quincy NB bike lane

14

Quincy SB bike lane

15

Roosevelt Bridge

73

Rosslyn Bikeometer

214

TR Island Bridge

484

WOD Bon Air Park

0

WOD Bon Air West

0

WOD Columbia Pike

173

Wilson WB bike lane

56
Peds counted
View Counter Data
110 Trail

0

14th Street Bridge

150

Arlington Mill Trail

660

Ballston Connector

189

Bluemont Connector

421

CC Connector

165

Custis Bon Air Park

235

Custis Rosslyn

272

Eads NB

0

Eads SB

0

Fairfax WB

0

Joyce St NB

46

Joyce St SB

0

Key Bridge East

824

Key Bridge West

411

MVT Airport South

129

Roosevelt Bridge

1

TR Island Bridge

696

WOD Bon Air Park

0

WOD Bon Air West

0

WOD Columbia Pike

614
All counters, YTD
View Counter Data
Year to Date

1137362