Conte's Bike Shop
Partner Spotlight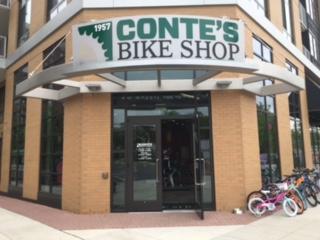 Charles Conte, Owner
May is National Bike Month and Conte's Bike Shop in Virginia Square welcomes all cyclists to their store to help celebrate.
Current owner Charles Conte's father opened their first shop in 1957, and the company has grown to nine locations around Virginia, most recently with the Arlington location opening in March 2016. This location is a premier dealer for Giant bicycles as well as BMC. They're also an authorized dealer of Scott, Eddy Merckx and Argon 18 bicycles. The shop carries all major brands of accessories and will service any bike, not just those they sell. Conte's is also one of three Top 100 Bike Retailers in the U.S. located in Arlington out of a total of 4,800 bike stores nationwide.
What makes Conte's different from most shops is that they accept trade-ins and sell pre-owned bikes. For example, parents can purchase a bike for their child and when they grow out of it, they can get trade-in value for the next bike. Commuters or people who want a racing or triathlon bike can also find pre-owned bikes at more affordable prices. Conte said that the Arlington location plans to host shop rides, while noting how he and his staff are heavily involved in Bike to Work Day and Bike to School Day.
When a customer comes in to purchase a bike, Conte and his staff ask a lot of questions and listen to what the customer has to say about where and how far he or she is going to ride. Conte noted the importance of proper bike fit — leg extension to the pedals, reach to the handlebars and brake levers are all properly fitted so that the customer enjoys riding the bike. Conte's provides free adjustments for one year on all bikes purchased.
The entire staff rides to work. Conte tells customers who are interested in bike commuting, "the bike lanes and trails are very safe places to ride. You're going to feel better and see things differently on a bike." Conte currently bikes seven miles each way from DC. He'll continue to ride when he moves to Reston, an 18-mile trip each way. "I ride if it's rain, sleet or snow. It doesn't matter." Conte appreciates Arlington's cycling infrastructure, including lanes and the designated trail systems such as the W&OD and Custis Trails, and how bike infrastructure plus public transportation options provide commuters "a choice instead of sitting in a car." Since Conte moved here from Richmond a few months ago he has been pleasantly surprised by how much Arlington promotes alternatives to driving. "It's got to be one of the top counties in the country that promotes cycling."

Conte's Bike Shop
3449 Wilson Blvd
571-800-3126
Map and transportation options
Plan your car-free trip to Conte's Bike Shop with CarFreeAtoZ.