Continental Pool Lounge
Partner Spotlight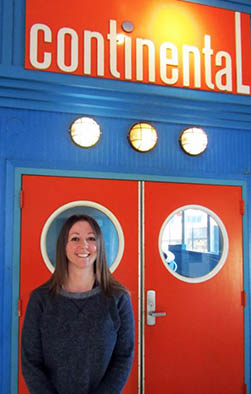 Katie Smith, General Manager
Continental Pool Lounge in Rosslyn takes the image of the smoky, dark pool hall and gives it a fun, mid-century atmosphere. In addition to its six pool tables, Continental offers guests shuffleboard tables, Ping Pong, skee ball, darts and numerous arcade and board games. Katie Smith, Continental's general manager, says, "What makes us different is that it's a nicer atmosphere, more professional."
With its proximity to many of Arlington's large companies, Continental hosts a lot of corporate events. "Networking or ice breaker events are how people grow within these big companies," Smith says. What has surprised her most about events is the growing popularity of hosting Bar Mitzvahs on Saturday afternoons, which use the entire space. Private parties can reserve the Green Room or the Purple Lounge that accommodate 30 and 70 people, respectively.
Smith also sees birthday groups or groups of friends who just want to get together for a fun evening of games. Continental attracts crowds from DC, Maryland and the outer suburbs on weekends. She says that with the growth of residential buildings in Rosslyn, more local residents continue to discover it.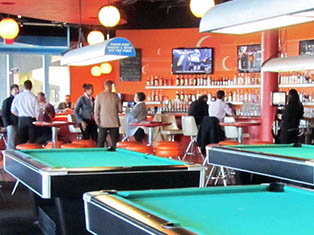 Each weekday Continental offers a different half-price lunch special with Wednesday's half-price burgers being the most popular. Continental features happy hour food specials from 5pm to 8pm on weekdays and 6pm to 9pm on weekends. As for beers, Smith says they try to offer something a little higher tier, focusing on seasonal and local beers with 24 taps at the main bar and 12 at the back bar. Every few months Continental hosts a tap takeover with one of the many Virginia, DC or Maryland breweries. "It's good for us, great for them," says Smith. "We like supporting small businesses."
Continental is located within a few blocks of the Rosslyn Metro as well as multiple bus stops including ART, Metro, the Circulator and the Georgetown shuttle. A Capital Bikeshare station is just a few feet away. A majority of staff takes the bus or Metro. Smith herself is excited to move to an area that's Metro accessible. "What's nice about commuting and not having a car is that it's really easy to figure out the routes," says Smith.
Continental Pool Lounge
1911 N Ft. Myer Drive
703.465.7675
Transportation Options