Dama Restaurant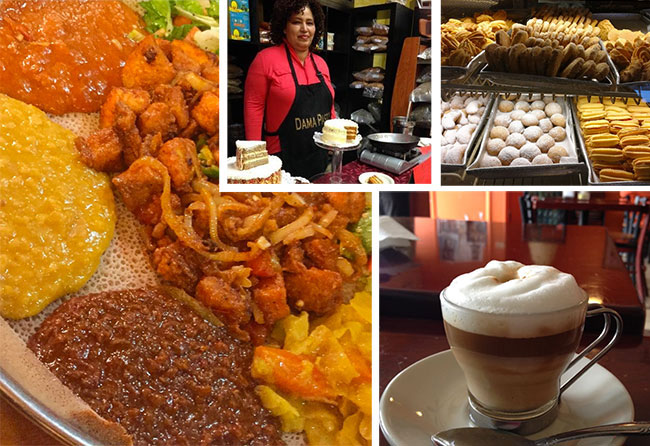 What do you get when you combine a concept started by a baker 60 years ago, a former White House pastry chef and a true passion to bring quality Ethiopian food to Arlington? The answer is Dama Restaurant, a local Ethiopian eatery on the east side of Columbia Pike since 1980. Next to the restaurant is a butcher shop, a market, café and bakery. As if that weren't enough, they also do catering. Dama is a family effort with each member taking on a responsibility.
Almaz, a former White House pastry chef and Howard University graduate, carries on her father's passion for baking by offering birthday and wedding cakes, as well as traditional Ethiopian baked goods. But she has also mastered savory dishes, coming up with several vegetarian and vegan options on the menu. One of the most popular dishes is kitfo, a minced raw beef marinated in a chili powder-based blend and clarified butter, is served with injera (a spongy soft flat bread). Eating with your hands is strongly encouraged!
Coffee is known to have originated in Ethiopia's Kaffa region. So it's no surprise to find Ethopian locals conversing over coffee, latte or macchiato in the morning at Dama Café just next door. The amazing aroma of espresso emanating from their coffee bar is an enticing invitation to try a cup.
Situated close to the Pentagon and the Air Force Memorial, Dama Restaurant is easily accessible without a vehicle. Use Metrobus, ART Bus or even Capital Bikeshare to get there and savor all these treats.
Dama Restaurant
1505 Columbia Pike
Arlington, VA 22204
Get there car free.