Detour Coffee Company
Manuel Olivera, Operations Manager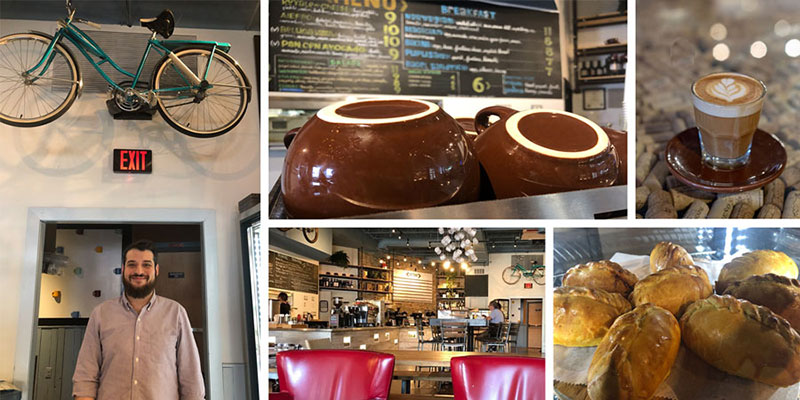 Detour Coffee Co. is nestled between two buildings not far from the Virginia Square Metro station. The owner already had a location upstairs (Darna Lounge & Nightclub), but wanted to create a community hub where people came together. So, in 2017, Detour Coffee Co. was born. Manuel Olivera, Detour's operations manager, says the shop uses Vigilante Coffee, a local roaster from nearby Hyattsville.
Because this coffee shop is near the Virginia Square Metro station, it's an easy location to access. With parking limited to just eight spots, Manuel is a supporter of the Car-Free Diet program and is glad to be a Car-Free Diet Partner which offers its partners a complimentary customized link with a map, transportation options and real-time transit arrival information to their location. All of which makes it easy to get people to the coffee shop to try a variety of menu options ranging from Norwegian salmon (Manuel's favorite) and vegan Aleppo burger to chivito (traditional Uruguayan sandwich) and The Magician (Colombian arepa filled with scrambled egg, corn and Tabasco cream). For later in the evening, they also serve wine and beer from all over the world.
Manuel praises his staff and how great they are to work with. He also mentions that 7 out of the 10 employees live in Arlington. One of the baristas bikes to work every day. On the other side of the counter, many of the customers walk to Detour because of its proximity to Urban Villages like Clarendon and Virginia Square. On the weekends, there's a line out the door from walkups waiting to have brunch. The coffee shop is always a mix of George Mason University professors and students, as well as professionals having meetings and people just passing by. The customers know their coffee and Manuel sees it in what's being ordered. Top pick? Latte. Detour offers a full-service coffee bar including nitro on draft and pour overs for the pickiest of coffee connoisseurs.
Learn how to go car free to Detour Coffee Co.
Detour Coffee Co.
946 N. Jackson St.
Arlington VA 22201