District Angling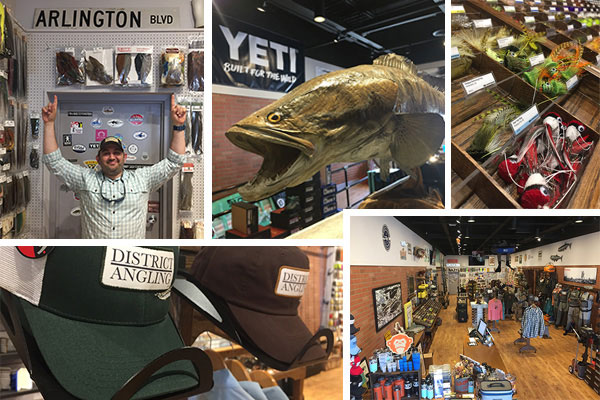 When asked how Richard Farino, owner of District Angling, got into fly fishing, he answers, "a local tackle shop" in his native Bronx. What started as fishing in Central Park morphed into studying marine biology and the interest in fly-fishing stuck. Fast forward to December 2017, and Richard opened his own shop out of necessity — not his, but for the area. Farino recognized there were very few fly fishing shops in the area and with his 15+ years of experience in the field, he knew enough about the business to bring a presence back to Arlington.
Situated in quaint Cherrydale along Langston Boulevard (formerly Lee Highway), District Angling feels like it has always been there with its industrial black ceiling, faux brick wall and wide-plank floor. The store sells rods, reels, handmade flies and clothing. All the flies are hand-tied with many natural products as well as synthetic ones. Tip: check out their fly-tying seminars starting in September.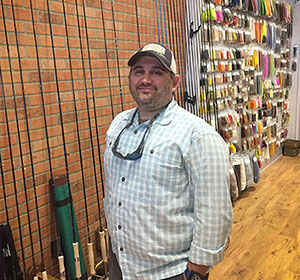 Richard says all walks of life come through the door such as "… lawyers, doctors, painters and mechanics. But in my shop, everyone is equal and on a level playing field." It's not your conventional tackle fly shop. Customers are loyal and will stick around to talk about fishing over coffee. As Richard puts it, "loitering is encouraged here." With staff members that are all fishing junkies, they're eager to talk about products, methods and other fishing topics. During the summer, they host Beer Fridays (beer donated from local breweries) and Richard grills half smokes from Ben's Chili Bowl. In December, he's planning a group trip to New Orleans.
When asked about favorite fishing spots, Farino was tight-lipped except for offering up a spot called "No Tellum Creek." Surprisingly there are several great spots in Arlington such as Pentagon Lagoon, Gravelly Point, Roaches Run and Four Mile Run near the Wastewater Treatment Plant — even a small pond along the Custis Trail very close to the store. A pleasant surprise is his older client base is getting to these destinations car free by cycling. They're finding it easier to access their fishing spots on foot or bike than by vehicle.
Learn how to get car free to District Angling
District Angling
2105 N. Pollard St.
Arlington, VA 22207
Arlington's Bicycle & Pedestrian Counters
Bikes counted
View Counter Data
110 Trail

177

14th Street Bridge

449

Arlington Mill Trail

44

Ballston Connector

36

Bluemont Connector

60

CC Connector

148

Clarendon EB bike lane

1

Custis Bon Air Park

106

Custis Rosslyn

178

Eads NB

9

Eads SB

1

Fairfax EB bike lane

24

Fairfax WB

24

Joyce St NB

39

Joyce St SB

0

Key Bridge East

330

Key Bridge West

203

Military NB bike lane

6

Military SB bike lane

10

MVT Airport South

263

Quincy NB bike lane

14

Quincy SB bike lane

15

Roosevelt Bridge

73

Rosslyn Bikeometer

214

TR Island Bridge

484

WOD Bon Air Park

0

WOD Bon Air West

0

WOD Columbia Pike

173

Wilson WB bike lane

56
Peds counted
View Counter Data
110 Trail

0

14th Street Bridge

150

Arlington Mill Trail

660

Ballston Connector

189

Bluemont Connector

421

CC Connector

165

Custis Bon Air Park

235

Custis Rosslyn

272

Eads NB

0

Eads SB

0

Fairfax WB

0

Joyce St NB

46

Joyce St SB

0

Key Bridge East

824

Key Bridge West

411

MVT Airport South

129

Roosevelt Bridge

1

TR Island Bridge

696

WOD Bon Air Park

0

WOD Bon Air West

0

WOD Columbia Pike

614
All counters, YTD
View Counter Data
Year to Date

1137362