El Fuego Peruvian Kitchen
Manuel Alfaro, Owner/Chef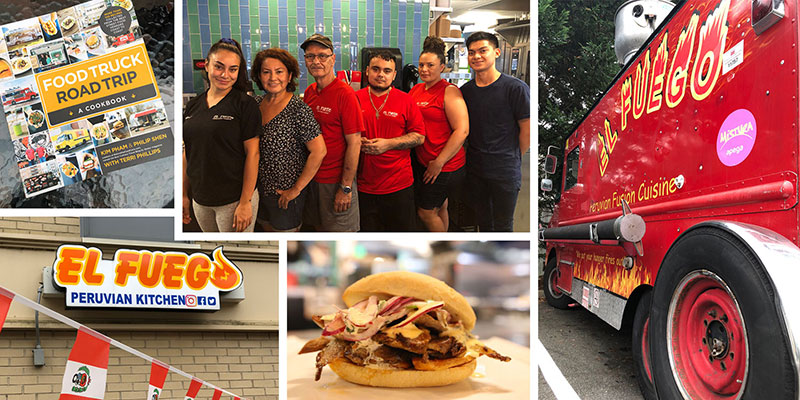 Before we can mention top-notch Peruvian food in Arlington, we must first start in Galicia, Spain. This is where Puerto Rican-born Manuel Alfaro honed his culinary skills before returning to the US. He and his Peruvian wife, María, purchased a food truck in 2011 at the suggestion of their daughter. Using a unique fire truck, El Fuego DC was baptized and has had much success in DC and Arlington. In 2018, Manuel and María settled into a Lyon Park brick-and-mortar restaurant to bring Peruvian cuisine to Arlington. But don't expect your typical rotisserie Peruvian chicken, here you'll find ceviche, lomo saltado, stuffed avocados and more.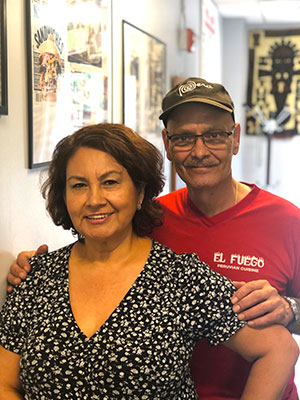 Manuel says the transition from food truck to restaurant was very natural for El Fuego. It was more a challenge getting equipment through the door than making the decision to open a restaurant. The food truck has four separate stations, so it didn't require much more to staff a full kitchen. Their children, Maria's sister and a longtime friend/neighbor can be found in the kitchen preparing and cooking the food. As for the food truck, it still goes out for service (follow on Twitter: @elfuegodc), mostly in Courthouse these days.
Their nephew also helps out in the kitchen once a week and commutes from Alexandria on his bike. Also, half the staff gets there by public transportation. Manuel says a good number of customers get there by walking and biking. When asked about the Car-Free Diet, Manuel recognizes the importance of the program, which encourages the community to use public transportation, walking and biking. He points out the bike lane outside the restaurant is busy in the mornings as it's an important route to access DC from Arlington. He also mentions the bus routes that travel along Pershing Drive. Both allow customers to have easier access to his businesses. Without them, Manuel says not as many people would come to his restaurant.
Learn how to go car free to El Fuego Peruvian Kitchen.
El Fuego Peruvian Kitchen
2300 N. Pershing Dr.
Arlington, VA 22201