Fashion Centre at Pentagon City
Partner Spotlight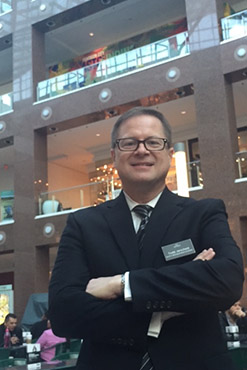 Todd Jersheid, Director of Marketing and Business Development
When you combine "aspirational retail shopping" with a multi-modal transportation hub the result is a very successful shopping destination with 170 retailers and restaurants including anchor tenants Macy's and Nordstrom. This has been the formula for success at the Fashion Centre at Pentagon City. As Todd Jersheid, Director of Marketing and Business Development describes it, "we offer world-class shopping right in the heart of DC." Although the mall is in Arlington, it's just across the Potomac River, next to the Metro and less than a mile from the Pentagon, as well as multiple office and residential buildings.
Jersheid says what sets the Fashion Centre apart from other shopping centers is "the shopping experience and creating the 'wow factor.'" The mall brings in over 16 million visitors a year including 18,000 visitors a day coming in from the Metro. To keep things fresh and exciting, the mall is undergoing a renovation in Fall 2015 with all new floors, railing, energy-efficient lighting, a new food court with more comfortable soft seating areas and new escalators and elevators. There is also a 52,000 square-foot expansion along Hayes Street, which includes sit-down restaurants Matchbox, Shake Shack and Sugar Factory.
Of the malls total annual visitors, about a third are international and domestic tourists. "We're two stops from Reagan National Airport and next door to the Ritz-Carlton Hotel with 366 rooms and 19,000 square feet of meeting space," says Jersheid. There are also 42 other major hotels within walking or Metro distance. Hotel shuttles arrive at the Fashion Centre about every 20 minutes, and tour buses can be seen lined up along Hayes Street.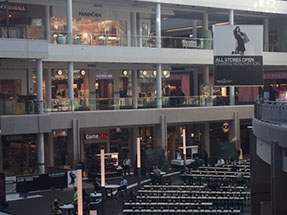 Jersheid's daily commute to Pentagon City is longer than most who work in Arlington, traveling 60 miles from his home north of Baltimore, Maryland. He leaves the house at 6:45am, taking the MARC train to Union Station then Metro's Red line to the Yellow line to arrive at the office by 8:30am. "I may take a nap, read, or catch up on emails," he says. Jersheid notes the advantages of living or working in Arlington, "You can get most anywhere on Metro. If Metro isn't an option, take the bus or if you want to enjoy nice weather there's Capital Bikeshare or you walk. It's right here."
Car-Free Transportation Options