Hanabi Ramen
Kenji Hisatsune, owner
Why bring a ramen shop to an already crowded urban neighborhood full of cuisine options? "I noticed the Japanese restaurants here are run by people who are not from Japan and I wanted to offer something authentic," said Kenji Hisatsune, owner of Hanabi Ramen. After looking in Portland, Seattle, Phoenix and Dallas — Kenji settled on Arlington and in February 2017, he opened less than a block from Clarendon Metro. He adds that everything on the menu is what he liked to eat growing up. Kenji is from Fukuoka, which is in the southern part of Japan and famous for tonkotsu ramen. He recalls his mother cooking every meal and is his inspiration for developing the menu items for his new restaurant.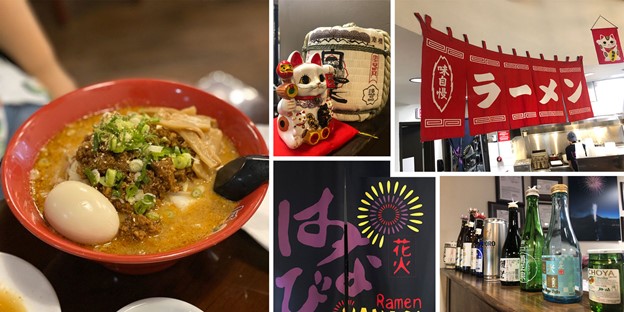 Kenji's customers have surprised him with their knowledge of Japan, its language and culture. Many say they feel like they're in Japan when they come to eat at Hanabi Ramen. As one enters, they're greeted with the phrase "irasshaimase" — which means welcome or please come in. The open kitchen invites you to see how food is prepared. What's the most popular dish? It's no surprise that it's Kenji's hometown favorite — tonkotsu ramen. He calls his ramen a collaboration of soup and noodles, stating their consistency has to match. They make five different types of noodles and you can choose which one you want in your ramen.
Due to its location, he says many customers walk from nearby offices and neighborhoods or take the Metro. Plus, half his staff uses either Metro or bus to get to work. Kenji proudly displays the Car-Free Diet brochures on his wall and there are numerous public transit options that connect with his restaurant. Clarendon is a vibrant urban village with numerous walking routes, bike lanes, Metro and bus routes. Despite the COVID-19 pandemic, Hanabi Ramen offers a full menu. So plan your trip and warm up with a bowl of authentic ramen.
Hanabi Ramen
3024 Wilson Blvd.
Arlington, VA 22201
Go car free to Hanabi Ramen.