Highline RxR
Partner Spotlight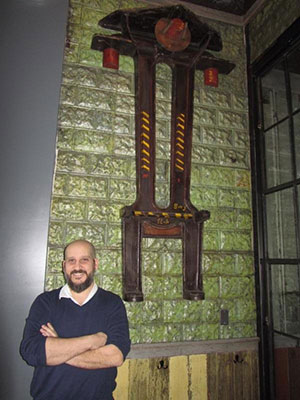 Tony Radwan, General Manager
When the partners of the Bedrock Management Group were thinking of a name for their latest DC-area watering hole in Crystal City, they came up with Highline RxR. Tony Radwan, Highline RxR's general manager, explained that the name references the location being the group's only bar located above street level and acts as an homage to the area's history as a trade center and transportation hub.
The restaurant's industrial interior was created using repurposed materials, creating a unique atmosphere. With tables made of old bowling alley lanes, chairs created from plastic Coca-Cola bottles and walls pulled from an old tobacco barn, the restaurant also offers a panoramic view of Crystal Drive with floor-to-ceiling windows. With the exception of Champagne used to make mimosas, there are no cans or bottles; all beer and wine is served on tap with 33 beers and eight wines, four red, four white. Highline RxR also features a signature cocktail menu along with a variety of whiskies.
Highline RxR's chef, Emmanuel Itam, came from the Gaylord National Harbor Resort. Lunch and dinner are served daily, and the weekend brunch menu features six different Eggs Benedict dishes to please all palates.
Highline RxR is also a great place to watch sports, featuring a unique setup of six large 6-foot-high HD projection screens that roll up if there is no live sports' programming available. The bar area also has a foosball table and a number of board games kept stored on the shelves.

Radwan explains, "We try to be that bar that people can come to after work." For those who want to get away from the office, but still get some work done, Highline RxR provides free WiFi, and the front bar has a number of electrical outlets for mobile devices. Highline RxR also stays open later than most locations in the area, closing no earlier than midnight during the week and around 1:30am on weekends.
Radwan appreciates all of the transit options available in Crystal City. He personally takes the Yellow Line from his home in DC near the U Street/Cardozo station, and some of his employees arrive to work via Capital Bikeshare or by riding their own bikes. Highline RxR is one of the many businesses along Crystal Drive with a bike rack right in front.
Since Highline RxR opened in February 2015, one of Radwan's biggest surprises has been getting used to it being more of a happy-hour-focused bar. "Staff has to be ready to go at 4pm," Radwan says. "After 7pm we start chilling out."
Highline RxR
2337 Crystal Drive
703.413.2337
Transportation Options