Ireland's Four Courts
Partner Spotlight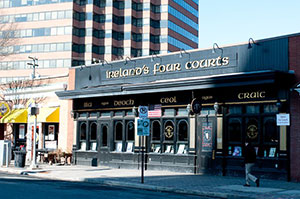 "You could kick a football straight up the street, back then!" That's David Cahill, General Manager of Ireland's Four Courts, registering both his chagrin and satisfaction with the growth of the Courthouse community since 1996 when Four Courts opened its doors. "Today, Wilson Blvd. is just jammed with traffic on a Saturday morning." Such is the difference almost two decades of steady commercial and residential growth makes.
Ireland's Four Courts at 2051 Wilson Blvd. is located in the heart of Courthouse, just two blocks from the district court complex, Arlington Courthouse Plaza, and Court House Metro Station. A Capital Bike Share station is just steps from the front door. Despite available parking in back, Cahill says virtually all of his clientele arrive on foot.
"We're a family spot as much as a pub, with most people coming in from the immediate residential community," he explains. Four Courts has a popular happy hour that attracts a mix of area professionals as well as a significant contingent of families. "Most of our guests are coming in at the end of the work day for the happy hour, and then there's musical entertainment every evening for the night crowd - Karaoke, on Sunday nights!"
"We're really happy to be a Car-Free Diet Partner," offers Cahill. "Along with the display of Car-Free Diet literature, we have more bus routes available at the entryway." Cahill mentions that his staff also makes use of the Car-Free Diet website to check bus routes and schedules. The staff often offers transportation tips and information to interested patrons.
How do employees commute to work? Cahill said that his employees travel to work one of three ways. He estimates a third drive; others use Metro; and ten or fifteen regularly bicycle.
Cahill, an avid runner, started the annual "Four Courts Four Miler" in 2010, which has quickly become a local favorite, selling out each year.
The Washington Post said Ireland's Four Courts is, "an authentic Dublin pub experience." Cahill invites you to sample the Irish pub fare, book a private space for your special occasion and cheer on your favorite sports team.
Ireland's Four Courts
2051 Wilson Boulevard
703.525.3600
Transportation Options
Arlington's Bicycle & Pedestrian Counters
Bikes counted
View Counter Data
110 Trail

177

14th Street Bridge

449

Arlington Mill Trail

44

Ballston Connector

36

Bluemont Connector

60

CC Connector

148

Clarendon EB bike lane

1

Custis Bon Air Park

106

Custis Rosslyn

178

Eads NB

9

Eads SB

1

Fairfax EB bike lane

24

Fairfax WB

24

Joyce St NB

39

Joyce St SB

0

Key Bridge East

330

Key Bridge West

203

Military NB bike lane

6

Military SB bike lane

10

MVT Airport South

263

Quincy NB bike lane

14

Quincy SB bike lane

15

Roosevelt Bridge

73

Rosslyn Bikeometer

214

TR Island Bridge

484

WOD Bon Air Park

0

WOD Bon Air West

0

WOD Columbia Pike

173

Wilson WB bike lane

56
Peds counted
View Counter Data
110 Trail

0

14th Street Bridge

150

Arlington Mill Trail

660

Ballston Connector

189

Bluemont Connector

421

CC Connector

165

Custis Bon Air Park

235

Custis Rosslyn

272

Eads NB

0

Eads SB

0

Fairfax WB

0

Joyce St NB

46

Joyce St SB

0

Key Bridge East

824

Key Bridge West

411

MVT Airport South

129

Roosevelt Bridge

1

TR Island Bridge

696

WOD Bon Air Park

0

WOD Bon Air West

0

WOD Columbia Pike

614
All counters, YTD
View Counter Data
Year to Date

1137362