La Moo Creamery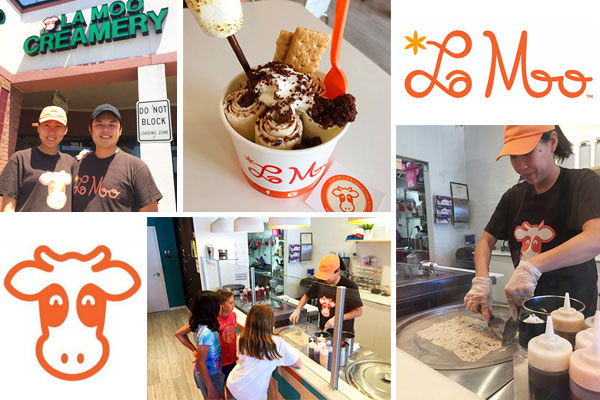 Ask Gary and Chelsea Li why they chose the ice cream business, and they quickly mention southern China — Haikou to be exact, where Chelsea is from. As a child she remembers getting rolled ice cream from street carts, a common site among many south Asian countries. A family trip to New York brought back those memories. Chelsea saw a street vendor with rolled ice cream much like from her childhood and the idea was put into motion. Fast-forward to today, and La Moo Creamery serves rolled ice cream to many happy customers in the Lee Harrison Shopping Center. "We use the bare minimum for ingredients to make a fresh ice cream that doesn't require preservatives, additives or other extra ingredients," says Gary. He even says that's the best way to lower calories. The average count for vanilla ice cream is 400 calories while theirs sits just below 350.
When you visit La Moo Creamery, you're likely to see students on both sides of the counter. That's because the neighborhood is home to Marymount University, several high schools and elementary schools. The store's location means most staff can walk or bike to work. In fact, this was one of the main reasons why Gary and Chelsea chose Lee Harrison Shopping Center. They also like the fact that it feels very "small town" even though you're so close to DC.
With its overwhelming community feel, Gary says the shopping center is like the central downtown area for the Yorktown neighborhood. It's easy to bike, walk or take the bus to the shopping center and run errands without ever having to leave your community. As one of more than 35 businesses in the shopping center, they enjoy the local, community feel and prefer it to other areas they researched for locating their store.
Before you plan your visit, check out their menu with flavors such as Dozer (Gary/Chelsea's favorite), Raspberry Bliss, Key Lime Pie and many others. Or try their dairy-free chopped ice.
Want to walk off those mere 350 calories? Explore the Yorktown neighborhood and try this WalkArlington suggested route (PDF, 746 KB).
La Moo Creamery
2501-B N. Harrison St.
Arlington, VA 22205
703-594-7665
Learn how to get to La Moo Creamery car free.