Lado International Institute
Partner Spotlight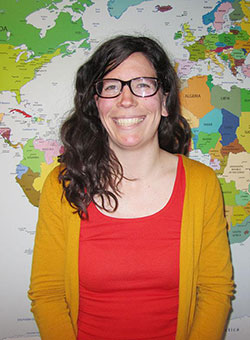 Laura Perkins, Program Coordinator
Students learning English at the Lado International Institute learn by "the total approach" method through reading, writing and speaking it. Those in the intensive program at Lado can reach college-level proficiency in about one year. The Rosslyn location - one of three in the area - offers English as a Second Language (ESL) and Spanish courses on weekdays, evenings and Saturdays. Those who want to teach English can earn their Teaching English as a Foreign Language (TEFL) certificate there as well.
Laura Perkins, program coordinator at Lado, has a background in teaching ESL, having previously taught English with Arlington County Public Schools. In 2013 she came to Lado, first as a teacher before moving into administration. Perkins says, "all instructors speak English with the students using the immersion method. It's difficult because you want that crutch of your native language, but it's more effective."
"We accept all levels of English," says Perkins. To get into a level-one English class, prospective students must know the alphabet and basic punctuation. They take a one-hour placement test then are interviewed by one of the teachers to be sure they get into the appropriate class.
Students at the Rosslyn location hail from over fifty countries. Many already have their student visa, but the staff at Lado can help them with the paperwork if they need to get one. Most students at Lado are in their 20s, but there are also high school students as well as some who have lived in the U.S. for a while.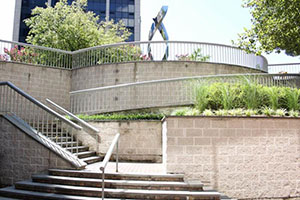 Perkins says her biggest surprise is how the students express themselves, which is a mix of surprise and enlightenment. "The words they choose, because their English is limited, can be hilarious and heartwarming."
Perkins usually bikes to work from Columbia Heights in Washington, DC, which takes about 24 minutes. She says some students drive, but others take Metrorail or the Metrobus 38B. Others live within walking distance and take the bus or Metrorail to get to other places in the area. Perkins often points out the Car-Free Diet and Dieta Cero Auto brochures to students, explaining "It's important for them to have public transportation options because it costs a lot to go to school and get a visa."
Lado International Institute
1550 Wilson Blvd.
703.524.1100
Transportation Options