Marymount University
Partner Spotlight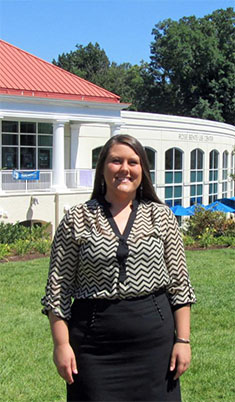 Sarah Burnett, Coordinator for Commuter & Graduate Student Services
When Sarah Burnett pursued her interest in moving from Boston to Washington, DC for college, she was overwhelmed. But then she discovered Marymount University, which provided the warm and welcoming environment she was looking for. After completing undergraduate studies and a master's degree, she is now Coordinator for Commuter & Graduate Student Services.
The Religious of the Sacred Heart of Mary (RSHM) established Marymount in 1950 as a two-year women's college. Today, Marymount University is an independent, coeducational Catholic university offering bachelor's, master's, and doctoral degrees in a wide range of disciplines. There are 3,700 students representing approximately 40 states and 70 countries, with one-quarter coming from Arlington, Alexandria, Fairfax and Falls Church. The university is comprised of three campuses: Ballston, Reston and the main campus in North Arlington.
Students are drawn to the school for many of the reasons Sarah chose Marymount. "I thought for a while that my story was unique," said Burnett. "The longer I've been here, the more I realize it's echoed in the stories of other students." Marymount enjoys great partnerships with local community colleges, especially Northern Virginia Community College. And strong community partnerships with Arlington and Fairfax County schools, Virginia Hospital Center and INOVA help their programs thrive.
With students and faculty commuting from all over the region and limited parking, the availability of alternative transportation options is important. Arlington's Car-Free Diet initiative has been instrumental to providing transit information for the Marymount community. Printed materials, websites and mobile apps such as 'Car Free Near Me' have all made Sarah's life much easier because she is able to respond to students' questions about how to get to and from campus.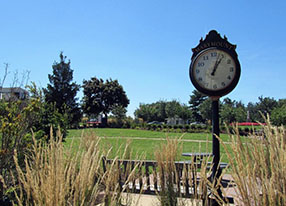 Three years ago the Student Government Association partnered with Revolution Cycles in Clarendon and purchased six new bikes to create a Marymount bike share program called Bernie's Bikes, named after the school's mascot. Students sign up for free and can use the bikes during daytime hours. Arlington, Alexandria and DC bike maps are made available in several locations on campus to make it easy for cyclists to find the most bike-friendly routes.
One student, who usually bicycles five miles to campus, asked Sarah about options for commuting in bad weather. Burnett told her that she could pick up the ART 41, which was only a couple of blocks from where she lived. "Wow!" said the student, "I didn't know there was an ART bus. That's what the green buses are."
"Students are so grateful when I help them," said Burnett.
Marymount University
2807 N Glebe Road
703.522.5600
Transportation Options