MOM's Organic Market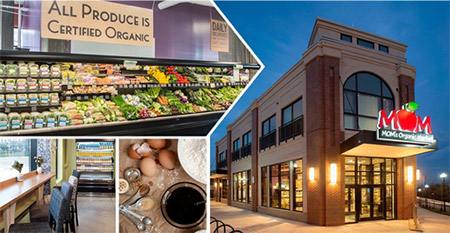 If you're not familiar with MOM's Organic Market, you'll be pleasantly surprised to learn it's a community player, receives fresh organic produce daily and promotes public transit to its employees through SmarTrip®. They even offer a subsidy to tenured employees who want to buy a hybrid or electric vehicle. Located in the North Highlands neighborhood, MOM's celebrates it's one year anniversary in Arlington this month.
Regional manager, Lara McCallum started as a part time cashier working her way up to manager and started to use public transit to get to work. But that's just the beginning of her car-lite story. With a husband and two children, she and her family downsized from three vehicles to just one and downsized their home over an 11 year period. Now overseeing the Arlington location, Lara has several employees that take Metro, bike or walk to work. Lara also shares the green values of Mom's owner, Scott Nash, such as banning plastic bottles from the shelves, seeking wholesome food options and even providing organic clothing.
Being off the beaten path of the Metro hasn't hindered people from shopping at this location. Lara believes people are willing to walk or bike the extra blocks because of the value they add to the community as the local corner market. There's a Capital Bikeshare station just outside, and the Custis Trail is nearby, making it easy for customers to get there car free.
Besides organic produce and carefully-chosen healthy minded products, MOM's is also involved with community activities. In the fall, they run a program similar to the County's E-CARE recycling effort to save electronics and other items from going to the dump. In the spring, a team does stream restoration cleanup. And with an Environmental Restoration captain at each store, they're always looking for ways to contribute to a better environment while connecting with the community.
MOM's Organic Market
1901 Veitch St
Arlington VA 22201
Map & Transportation Options