Portofino Restaurant
Partner Spotlight
Portofino started three generations ago with Adelmo Micheli, who had worked at the namesake restaurant in Washington, D.C. When it closed, Micheli decided to buy a house in Crystal City and open his own business under the same name. In the early 70s, Crystal City was just beginning and not much had been developed. It was mostly mounds of green, buildings being erected just across the street and patches of pink impatiens. Fast forward three generations and Adelmo Micheli's Portofino Restaurant still runs strong under the helm of his grandson, Chef Richard Micheli. And the house – well it has undergone several additions, but still maintains its original footprint and location.
Chef Richard Micheli
Nearing 50 years in the business, Chef Richard is happy to keep the family tradition going. He's also happy to see repeat customers on a regular basis. It likely has to do with Sergio, Richard's father, being the quintessential host visiting with guests and making them feel at home during their meal. But just as many out-of-town guests frequent the restaurant too given the numerous hotels across the neighborhood-dividing Jefferson Davis Highway. Many business travelers come to Crystal City due to the Pentagon and many other offices located in the area. That wasn't always the case. In 2000 the Naval Air Systems Command moved to DC. In 2002, the Patent and Trademark Office moved out and three years later, Base Realignment and Closure (BRAC) resulted in military base closures and moves. Despite this triple threat within the span of five years, Crystal City is on the comeback and is a thriving attraction for young professionals both for business and residence. Portofino survived the mass exodus and today boasts weekends where reservations are required for dinner.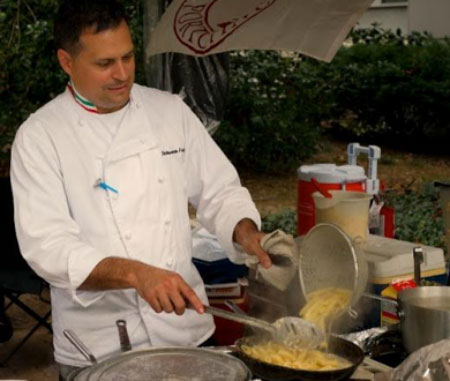 With two Metro lines less than four blocks away, ART bus, Metrobus and Capital Bikeshare – Portofino is easily accessible without a vehicle. And many of the staff know this including Chef Richard, who bikes regularly to work from DC. Of the 17-member staff, seven own a car. The rest walk, carpool or take the bus to get to work. Estela, who has been at Portofino for 12 years, takes the Metrobus 10A every day to work. The staff is a diverse mix from Bangladesh, Colombia, Morocco, Ethiopia and other countries. Chef Richard is fluent in three languages: English, Spanish and Italian. He can be heard speaking with staff in Spanish, clients in English and to his father in Italian.
Clearly you don't need a car to enjoy a northern Italian meal in a home setting, but make sure you call ahead for reservations. Learn how to go car free to Portofino Restaurant. Buon appetito!
Portofino Restaurant
526 23rd St. South
Arlington VA 22202
Map & Transportation Options