Rincome Thai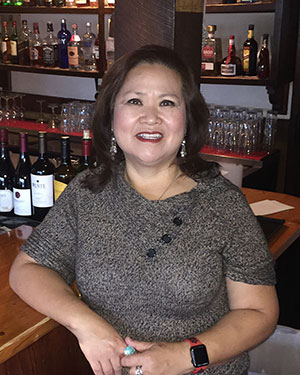 Mention Mihee Pansiri and most people will automatically know you're talking about Rincome Thai Cuisine 's owner – a mainstay on the Pike since 1985. What was it like opening a Thai restaurant in the 80's? What were her challenges? Ms. Pansiri smiles at the questions, but is quick to respond saying it was more common to see a Chinese restaurant than Thai. So how did Rincome make it? Mihee and her then-husband both worked in the restaurant industry and when the opportunity presented itself (a family friend didn't want to continue with the business), they borrowed money from family and bought the restaurant.
At first it was a struggle running the restaurant with Mihee also working a second job. They were bringing in $100 a day in revenue. About five years after they opened, a trend started happening — federal and military officials started to visit the restaurant. Soon many others including top ranking officials were coming in for lunch. Stationed overseas, many were familiar with Thai cuisine and were eager to eat an authentic Thai meal while back on American soil. Adorning the walls you will see portraits of numerous military/political figures including former Joint Chiefs of Staff, generals and congressmen/senators.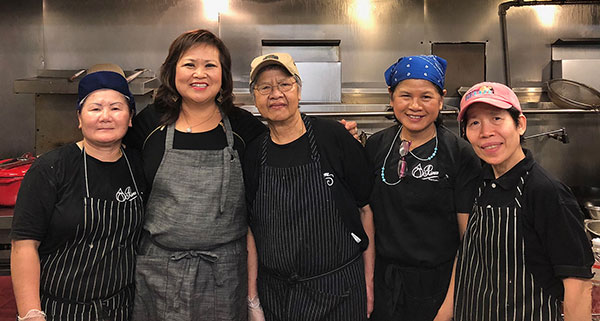 Today many of the customers are Ethiopian and Hispanic families, many of them second and third generation customers who continue to return. Mihee mentions this diversity is one of the pluses of living along Columbia Pike (Mihee lives nearby and sometimes walks to work). She also is quick to mention it remains an affordable place to live and despite being far from Metro, that hasn't prevented customers from coming. There are several Metrobus, ART bus routes and Capital Bikeshare stations nearby providing car-free options. Most of the staff walk to work, including Cherry who has been the chef for 25 years.
Some of Ms. Pansiri's most favorable memories are hosting her annual Superbowl potluck where longtime customers bring in a dish and share. She says it's like the TV show "Cheers" where everybody knows your name. If you're a first time customer, she recommends drunken noodles — their most famous dish. But chicken lemongrass soup or chicken with basil leaves and peppers are other good options. Here's how to get to Rincome Thai car free.
Rincome Thai
3030 Columbia Pike
Arlington, VA 22204