Rosa Mexicano
Noé Turcios, Manager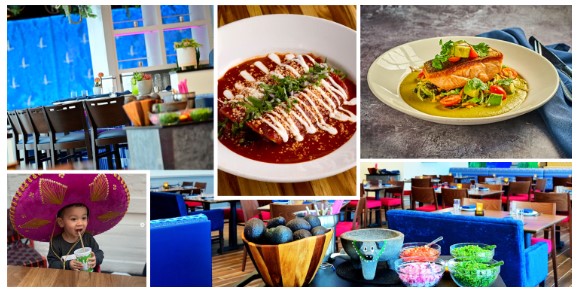 Rosa Mexicano started in New York as a fine-dining restaurant. Owner Josefina Howard chose the name "Rosa" to focus on the not-so-common aspect of being a female business owner. Fast forward to Nov. 2022, and Rosa Mexicana arrives in Arlington. Noé Turcios, the restaurant manager, is from El Salvador and came to the US in 2004. In 2008, he started with Rosa Mexicano as a busser and moved his way up to his current position as manager of the new Arlington location. Noé explains that while Josefina was Cuban born, she enjoyed traveling throughout Mexico and trying different cuisine. Her recipes reflect her travels and when she moved to NY, she decided to apply those recipes in a restaurant setting. One interesting detail is every location has a water wall with divers. This represents La quebrada de Acapulco, a site famous for its divers who jump from a height of 45 meters into the sea.
You won't find burritos or chimichanga on the menu. Instead, you'll see plates like tampiqueña — a plate of New York strip served with rajas (green, yellow, and red poblano peppers) and topped with enchilada salsa roja de Guajillo. Or try their carnitas, cooked in their own fat and reduced down, served with avocado, tomatillo salsa and pico de gallo in a cast iron casserole dish.
Located in Pentagon Row, the restaurant attracts military personnel, mall employees and local residents. Because tourist buses park nearby outside, Rosa Mexicano receives a good number of travelers. Being so close to Pentagon City Metro, many of the 50 employees use public transit to get to work. With two ART bus routes, four Metrobus lines, Capital Bikeshare and the Metro nearby — it's easy to leave your car at home and come savor these Mexican flavors.
Rosa Mexicano
1301 S. Joyce St.
Arlington, VA 22202
Go car free to Rosa Mexicano
Arlington's Bicycle & Pedestrian Counters
Bikes counted
View Counter Data
110 Trail

155

14th Street Bridge

347

Arlington Mill Trail

61

Ballston Connector

0

Bluemont Connector

77

CC Connector

128

Clarendon EB bike lane

94

Custis Bon Air Park

177

Custis Rosslyn

264

Eads NB

21

Eads SB

53

Fairfax EB bike lane

54

Fairfax WB

55

Joyce St NB

18

Joyce St SB

0

Key Bridge East

348

Key Bridge West

272

Military NB bike lane

11

Military SB bike lane

11

MVT Airport South

337

Quincy NB bike lane

34

Quincy SB bike lane

45

Roosevelt Bridge

0

Rosslyn Bikeometer

492

TR Island Bridge

193

WOD Bon Air Park

0

WOD Bon Air West

0

WOD Columbia Pike

176

Wilson WB bike lane

77
Peds counted
View Counter Data
110 Trail

294

14th Street Bridge

120

Arlington Mill Trail

6357

Ballston Connector

863

Bluemont Connector

791

CC Connector

339

Custis Bon Air Park

413

Custis Rosslyn

339

Eads NB

0

Eads SB

0

Fairfax WB

0

Joyce St NB

28

Joyce St SB

0

Key Bridge East

1423

Key Bridge West

494

MVT Airport South

217

Roosevelt Bridge

0

TR Island Bridge

547

WOD Bon Air Park

0

WOD Bon Air West

0

WOD Columbia Pike

334
All counters, YTD
View Counter Data
Year to Date

6060586