Rosslyn Business Improvement District
Partner Spotlight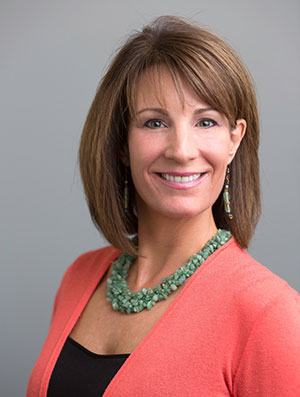 Mary-Claire Burick, President
"Our employers tell us that one of the main reasons they want to locate in Rosslyn is access to talent and access to transit options," says Mary-Claire Burick, President of the Rosslyn Business Improvement District (BID). Rosslyn "runs the gamut from small entrepreneurial start-ups to Fortune 500 companies. We have companies that have chosen to locate or relocate their global headquarters here," she added. This includes CEB (formerly Corporate Executive Board), which already had a presence in Rosslyn and decided to consolidate their headquarters there. CEB is just one of several professional services firms that have helped Rosslyn diversify from mostly government contractors. Burick's background in management consulting fit perfectly with the vision of the BID's board of directors. While interviewing for the position, they told her they wanted a "leader who can help us to crystalize the vision and manage the change along the way."
For many years Rosslyn was viewed as only a commercial district that rolled up the sidewalks at 5pm. Over the past ten years the area has pivoted to a mixed-use, downtown community with around 12,000 residents and 40,000 workers. It has also brought in retailers such as Target and Pier 1 Imports, as well as restaurants such as Heavy Seas, Pancho Villa and District Taco. Burick says that Rosslyn is home to a broad mix of residents who live in apartments, condominiums, town homes and high-end condos. "We're starting to see a lot of empty nesters who are downsizing their big homes and looking for a beautiful place with the amenities that a downtown would have," she said.
The Rosslyn BID hosts over 100 events a year, everything from Friday outdoor movie nights in the summer to the signature Rosslyn Jazz Festival every September in Gateway Park that attracts over 8,000 music fans. Burick added that the BID has also planned a lot of pop-up concepts. "What we love about the pop ups is that it takes a space like a concrete corner or an alleyway that's not being used, and we come in with fresh paint, a mural, tables and chairs, market lights and program it with activities." Some recent pop-up events have included Lunch At The Beach and a Beer Garden. The BID also hosts fitness activities in Gateway Park like boot camp, barre and Zumba events.

Those who live or work in Rosslyn have multiple transportation options available to them including three Metro lines, three major local and regional bus systems, the Vamoose bus that travels to New York and the Metrobus 5A that takes passengers from the Rosslyn Metro Station directly to Dulles International Airport. There are also four Capital Bikeshare stations in Rosslyn and both the Custis and Mt. Vernon Trails convene here. Newly designed bike racks are part of the BID's streetscape initiative that also includes benches, planters and solar trash compactors. Many Rosslyn business owners are also starting to provide amenities such as bike storage and showers to encourage employees to bike to work.
Since starting with the BID, Burick has been pleasantly surprised at how willing and interested the Rosslyn community is in getting involved. "I really thought we would have to work to find people who want to work. They're really interested in the neighborhood and getting involved in positive change."
Rosslyn BID
1911 N. Ft. Myer Drive, LL-10
703.522.6628
Transportation Options