Samuel Beckett's Irish Gastro Pub
Partner Spotlight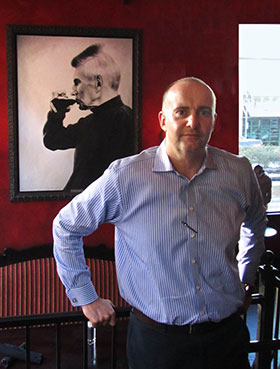 Mark Kirwan, Owner
"I've brought everything you see in this restaurant over from Ireland," says Mark Kirwan, owner of Samuel Beckett's Irish Gastro Pub in Shirlington. Everything he needed to create an authentic Irish culinary experience, from the floorboards to the ceiling fixtures, was shipped over from Ireland in 42 containers. Kirwan also went one step further and recruited fellow countrymen to join his team. "In fact, I believe we have the highest number of Irish employees of any pub around."
Kirwan has had a long career in the industry of public houses, beginning at Guinness where four generations of his family have worked. He refers to his time at Guinness as a "crash course in the industry," where he eventually moved into business development and launched nearly a dozen successful pubs.
A partnership opportunity brought him to the DC area and then he struck out on his own, opening Samuel Beckett's in Shirlington in early 2011. "I consider Samuel Beckett's to be the embassy of Ireland," Kirwan says with a smile. "The whole idea here is to give people a taste of Irish hospitality and help them feel at home."
Many things about Beckett's differ from the traditional Irish-American versions. The first thing you notice when you walk in is that the décor, which is vibrant and colorful, is not what you think of when you think of an Irish pub. "And neither is the menu," says Kirwan, who wanted to distinguish his menu from more typical Irish-American fare by offering both old family favorites as well as current Irish fare. "People think they'll find corned beef and cabbage and are pleasantly surprised to find modern Irish dishes such as our famous lamb or Guinness burgers and rib eye steaks served with Jameson mashed potatoes."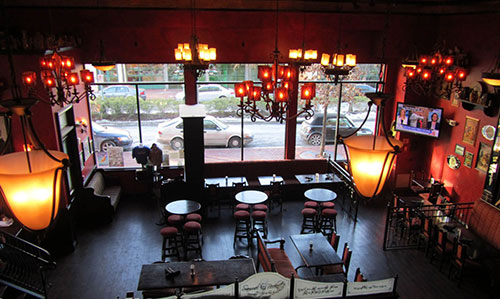 Getting to this popular Shirlington gastro pub is convenient to ART, Metrobus and Capital Bikeshare. "Quite a few people do arrive via bus," says Kirwan. "And during the summer especially, we have a huge influx of pedestrians and cyclists to the area. Capital Bikeshare is also fantastic for getting around."
Samuel Beckett's Irish Gastro Pub
2800 S Randolph Street, Suite 110
703.379.0122
Transportation Options