SER Restaurant
Partner Spotlight
Hailing from San Sebastian, Spain – Chef Josu Zubikarai opened D.C.'s Taverna del Alabardero and has now brought his talents to a more casual dining experience in Ballston with SER Restaurant. As winners of the Ballston Restaurant Challenge, they secured a space next to the Melting Pot and in less than two years, SER Restaurant has already racked up several accolades. Their OpenTable rating is off the charts and they have made a name for themselves as a destination dining location.
But this restaurant isn't just another Spanish-tiled wall with pictures of flamenco dancers. Chef Josu puts it best, "We want the Basque cuisine to be experienced from the plate, not from the walls." And with 30+ employees from several countries, most who use public transit to get to work — SER is demonstrating its diversity outside the kitchen too. Several Spanish staff members know the cuisine and wine list well, but just as knowledgeable are waiters from Russia, Colombia and Moldova to name a few. Add to that a full Spanish-speaking kitchen and you have a tight-knit, diverse team. But the burning question is what does SER mean? Besides the Spanish unconjugated verb "to be," Zubikarai elaborates it stands for Simple, Easy and Real.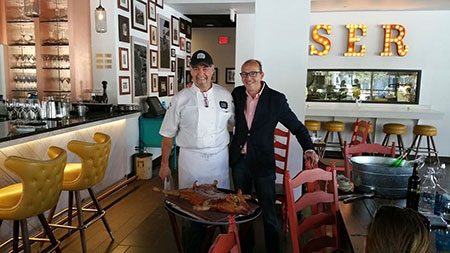 Left: Josu Zubikarai, Right: Javier Candon
Josu has lived in Arlington since the late 80's and finds the area very agreeable. When asked if he was bothered by the fact SER is located six blocks away from the Metro, he calmly shrugged it off. "People are willing to drive, walk or bike to come to the restaurant. Our customers find it very easy to get here." What's his biggest surprise about the area? He mentions the traffic gets pretty crazy in and around the area. On the other hand, he recognizes the convenience of accessing I-66, the Beltway and even getting to DC within minutes. For many years in major Basque cities such as his hometown, there have been car-free zones. He'd like to see that happen in Arlington (chef will be happy to know there's movement already happening to bring a car-free zone to Rosslyn).
Living and working in Ballston is one of the reasons you'll find Chef Josu walking to work most days. In fair/good weather you'll find his Harley parked outside. General Manager Mervyn Laihow, a Vancouver native, understands a thing or two about green cities and sustainability. He points out there's a Capital Bikeshare station just outside and quickly rattles off a complete list of bus routes that pass by their location. One staff member bikes year-round to get to work.
So leave your expectations of traditional tapas at home along with your car, and go car free to SER Restaurant in Ballston. With live music on Thursdays, daily happy hour until 7 pm and many unique dishes you won't find anywhere else — be prepared for an upscale, casual experience like no other.