Spice Kraft
Anthony Sankar, partner/manager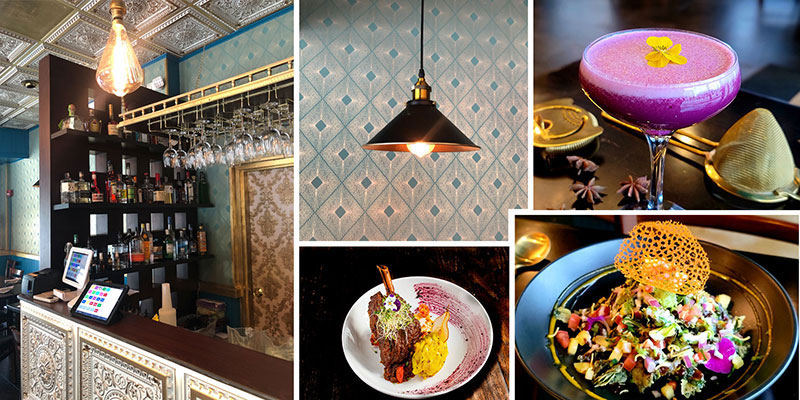 Spice Kraft has taken over the former Delhi Club space and is maintaining Indian cuisine, but with a unique twist. Most of the menu items are influences of North India, however, you can find items from the south as well. When the previous owners decided to retire, they approached Spice Kraft just as they were looking to expand. Clarendon was a perfect choice for partner/manager Anthony Sankar and his team. He prides himself on maintaining the Indian cuisine and history of the location while still bringing many new ideas through fusion flavors. For example, the chicken tikka burger is a mixture of culture and spice. Even the cocktails take part in the fusion, such as the madras margarita. It contains homemade tamarind chutney with spices along with tequila and jalapeno for spice combined with cumin. Some menu items are vegan or gluten-free to accommodate dietary restrictions. Anthony states that southern Indian cuisine tends to naturally be vegan.
Several of the employees use public transportation to get to work. Being so well connected, it's easy to do so. One of the chefs takes Metro, some use an electric scooter and two ride the bus (ART 41,42,45,77 serve this location).
You may know nothing about northern or southern Indian cuisine, much less what makes them different. So when you go, be sure to check out the lamb shank rogan josh — a popular northern Indian dish with red gravy packed with lots of spices, onion and tomato over homemade mashed potato masala. Need a suggestion for an appetizer? Try the spinach pakora chaat.
With the Clarendon Metro station across the street, bike lanes on both boulevards, a walking community and several bus lines — it's too easy to leave your car at home and get to Spice Kraft.
Spice Kraft Indian Bistro
1135 N. Highland St.
Arlington, VA 22201
Go car free to Spice Kraft