Stellina Pizzeria
Antonio Matarazzo, Owner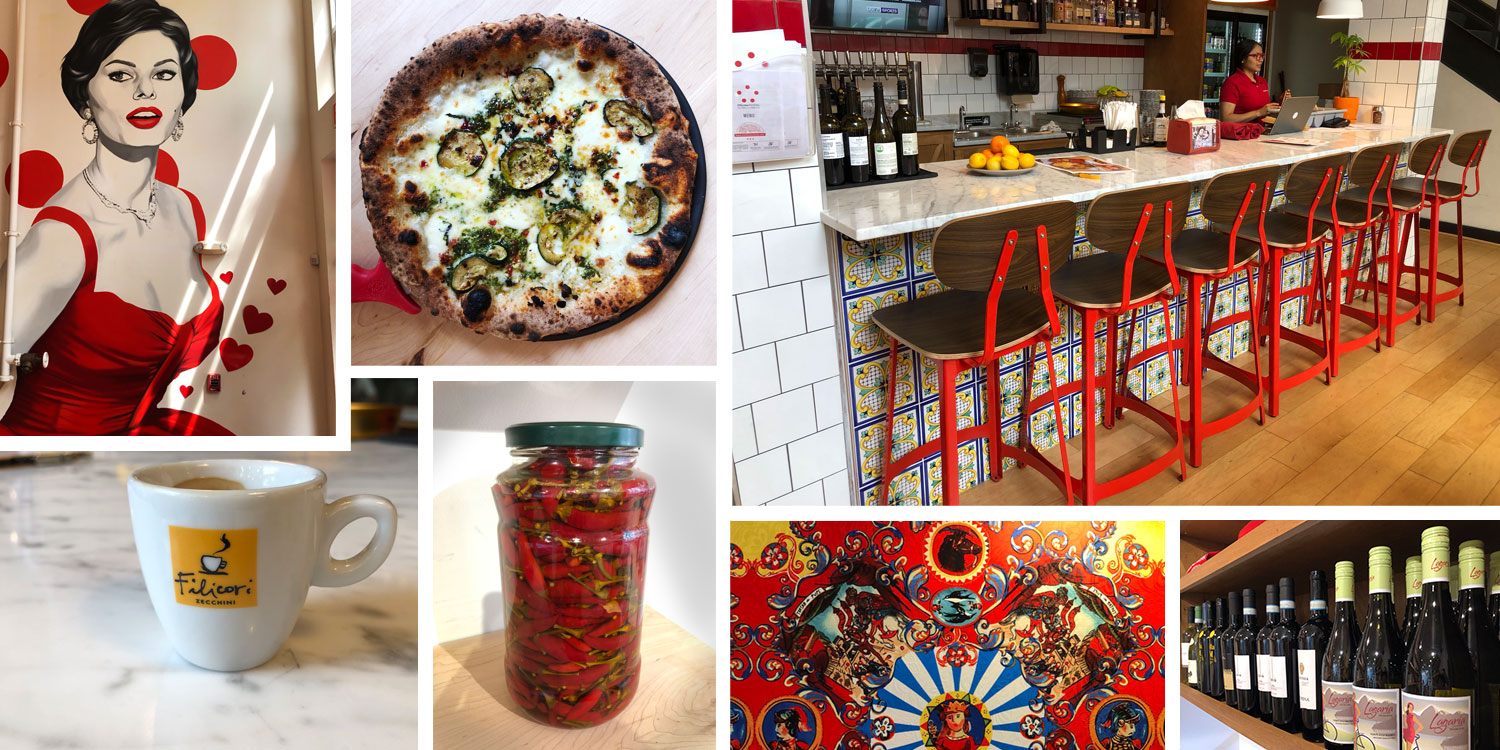 The first thing you see as you walk into Stellina Pizzeria is the larger-than-life size wall mural of Sophia Loren paying homage to the owner's Italian roots. Born near the Amalfi coast, Antonio Matarazzo began his love for the kitchen as a bartender and managing restaurants. In the US, he worked for Hyatt Hotels and then for Peroni once he moved to Arlington in 2008. In 2019, Antonio opened his own place in Union Market. Then in March 2020, he added Stellina in Arlington's urban village of Shirlington.
The space is clean and open with seating for 80 people including an upstairs, main level and outdoor patio. In the kitchen, the main feature is the pizza oven originally from Napoli. Its rotating-slab accommodates seven pizzas, which take 120 seconds to cook. Fun fact: a Neapolitan pizza only takes 90 seconds to cook, but Antonio offers neo-Neapolitan style with a special dough recipe. You'll be glad you waited the extra 30 seconds. A favorite dish is the amatriciana, a typical Roman pasta dish, Antonio makes it into a pizza finishing it with tomatoes and mozzarella. Everything is homemade from the house pasta and pizza dough to the bread, meatballs and arancini. The dough takes 72 hours to ferment and makes a not-too-thick perfect crust. Other items to consider: try their new octopus and burratta sandwich or the "peppertoni" — with pepperoni, onions and black pepper honey.
Due to its central location in Shirlington, the street is always moving with pedestrians and public transit. Stellina gets a variety of customers from families, young professionals and even some tourists. And of Antonio's 20 employees, most of them take the Metro and/or bus, with others riding their bike to work. Stellina is well connected to public transit, and with daily happy hour specials, you have a new reason each day to visit.
Stellina Pizzeria
2800 S. Randolph St.
Arlington, VA 22206
Go car free to Stellina Pizzeria
Arlington's Bicycle & Pedestrian Counters
Bikes counted
View Counter Data
110 Trail

155

14th Street Bridge

347

Arlington Mill Trail

61

Ballston Connector

0

Bluemont Connector

77

CC Connector

128

Clarendon EB bike lane

94

Custis Bon Air Park

177

Custis Rosslyn

264

Eads NB

21

Eads SB

53

Fairfax EB bike lane

54

Fairfax WB

55

Joyce St NB

18

Joyce St SB

0

Key Bridge East

348

Key Bridge West

272

Military NB bike lane

11

Military SB bike lane

11

MVT Airport South

337

Quincy NB bike lane

34

Quincy SB bike lane

45

Roosevelt Bridge

0

Rosslyn Bikeometer

492

TR Island Bridge

193

WOD Bon Air Park

0

WOD Bon Air West

0

WOD Columbia Pike

176

Wilson WB bike lane

77
Peds counted
View Counter Data
110 Trail

294

14th Street Bridge

120

Arlington Mill Trail

6357

Ballston Connector

863

Bluemont Connector

791

CC Connector

339

Custis Bon Air Park

413

Custis Rosslyn

339

Eads NB

0

Eads SB

0

Fairfax WB

0

Joyce St NB

28

Joyce St SB

0

Key Bridge East

1423

Key Bridge West

494

MVT Airport South

217

Roosevelt Bridge

0

TR Island Bridge

547

WOD Bon Air Park

0

WOD Bon Air West

0

WOD Columbia Pike

334
All counters, YTD
View Counter Data
Year to Date

6060586