Super Pollo Quincy Street
Partner Spotlight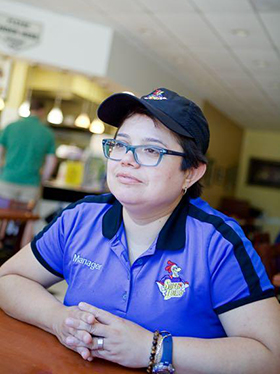 Danny Cardona, General Manager
Congratulations to Super Pollo, the Peruvian charcoal-grilled chicken restaurant in Ballston, winners of the 2016 Dieta Cero-Auto Commuter Challenge! The Challenge was a friendly, two-week competition among fifteen Arlington businesses with mostly Spanish-speaking employees. Participants calculated their car-free commutes to and from work using Metro, bus, bike, walk or telework.
"It felt very good to win, especially since there were so many other businesses with more employees. It was great working with my team. They put everything into the competition," said Danny Cardona, Super Pollo's general manager, who came to Arlington ten years ago from Colombia.
"When I came to Super Pollo six years ago, I started as a cashier and never expected to become a manager," said Cardona. Super Pollo co-owner, Shafiq Amad, saw Cardona working at McDonald's and liked how she did her job. Cardona said, "I like Super Pollo because it's a smaller operation, more intimate. It's a lot of work, but I have a lot of passion for what I do. When I make the food, I do it with love."
"I tell my employees that if you make it good for yourself, you'll make it good for the customer, and they'll come back." Whether it's the chicken, beans, spinach, yuca or other side dishes, Cardona and her staff are passionate about preparing and serving delicious food. Whole chickens are coated with Peruvian spices then cooked for 50 minutes to an hour on the rotisserie grill. It's a secret recipe from the mother of Peruvian-born Mirian Giordano, who with Mr. Amad, co-owns the restaurant.
While Super Pollo's staff was used to commuting by walking, biking, bus or carpooling, some of them discovered how easy it was to run errands by biking or walking since everything is so close in Arlington. Their awareness about the benefits of living a car-free lifestyle increased and they became prouder of the positive impact that they are making to our environment.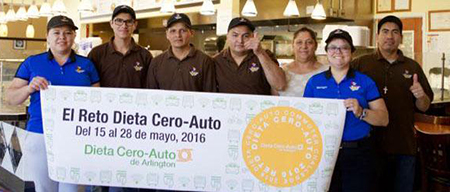 With a small staff, Cardona really wanted to win the Challenge so she made sure everyone took part. "I told them 'Super Pollo needs to win!'" One of her employees, Leo, acted as the Challenge Champion and took charge motivating everyone. When Cardona found out that Super Pollo had won the Challenge, she told Giordano, who was very happy and proud of the staff. Giordano asked her to prepare a special meal for them.
Cardona said of Arlington County Commuter Services' outreach to the Hispanic community, "they make it very easy for Spanish speakers by having so much information available in Spanish. Arlington makes it easy for residents and tourists to get around. You go to any restaurant or hotel or other type of business, and you see the ART and bus maps. It's great!"
Super Pollo
550 Quincy Street
571.970.3421
Map and car-free transportation options