Taqueria Poblano
Partner Spotlight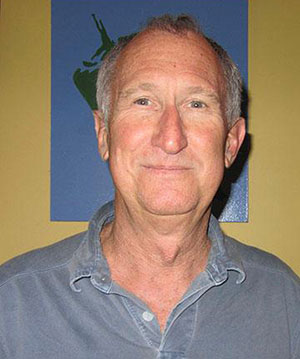 Glen Adams, Owner
Growing up in Southern California, Glen Adams enjoyed a style of Mexican food that many on the East coast aren't familiar with. As the owner of Taqueria Poblano, with two locations in Arlington and one in Alexandria, Adams wanted to bring California-style tacos and other dishes to the DC area.
Adams worked in hotels and restaurants for a number of years and met his business partner Thomas Stevens while working together for a restaurant group as chef and manager. While working in the DC area, Adams began making tacos for friends and culinary colleagues who encouraged him to start a taco stand. He found space in the Del Ray neighborhood of Alexandria in 1999 and envisioned a counter pickup restaurant, not a full-service one. Adams opened a second location in the Lee-Harrison Shopping Center in 2007 and a third in the Penrose Square area of Columbia Pike in 2011.
"A lot of people are familiar with Tex-Mex," says Adams, "which uses a lot of sauces and gravies and is heavier on the cheese." Taqueria Poblano features dishes from the Baja and Sonora regions, which border California and Arizona. "We have charcoal grills, marinated meats," says Adams, pointing out the differences. "We also serve dishes from Yucatán, located on the Gulf of Mexico, and moles (sauces), made of poblano chiles, from Puebla near Mexico City."
Adams explained that Taqueria Poblano differentiates itself by "cooking fresh cuts of meat, and braising the beef in stock made with chiles, peppers and garlic." The beef is then shredded and mixed with the stock reduction. To make crispy tacos, they're blanched, dried off, stuffed, and then deep-fried.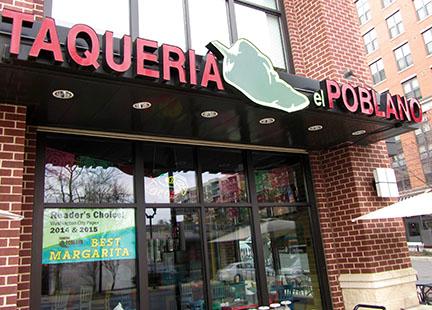 Taqueria Poblano is also known for its fantastic margaritas, made by adding fresh lime zest to water, letting it soak, straining it out, and adding it to fresh lime juice. Readers of the Washington City Paper have selected Taqueria Poblano's as Best Margarita in 2014, 2015, and 2016.
Adams' biggest surprise came soon after opening the first Taqueria Poblano, as he surpassed his anticipated sales volume within three years. "People like this stuff. This is working," he said. With the Columbia Pike location, Adams says it's been slow to take off. "I don't think people see this neighborhood as the place to go." With more mixed-use development planned across the street from Penrose Square where the restaurant is located, Adams feels like business for everyone at the eastern end of Columbia Pike will pick up.
Although Adams uses his car to get to the three Taqueria Poblano locations plus his two other restaurants, many of his staff ride the bus or ride share to get to work. He looks forward to the day when more people walk around and explore their neighborhoods and discover businesses and activities without driving and says, "transportation is knowing what places are here."
Taqueria Poblano (Columbia Pike)
2401 Columbia Pike
703.271.8979
Map & Transportation Options
Enter your address in CarFreeAtoZ and get all your car-free options.
Taqueria Poblano (Lee Hwy)
2503-A N. Harrison St
703.237.8250
Map & Transportation Options
Enter your address in CarFreeAtoZ and get all your car-free options.
Arlington's Bicycle & Pedestrian Counters
Bikes counted
View Counter Data
110 Trail

177

14th Street Bridge

449

Arlington Mill Trail

44

Ballston Connector

36

Bluemont Connector

60

CC Connector

148

Clarendon EB bike lane

1

Custis Bon Air Park

106

Custis Rosslyn

178

Eads NB

9

Eads SB

1

Fairfax EB bike lane

24

Fairfax WB

24

Joyce St NB

39

Joyce St SB

0

Key Bridge East

330

Key Bridge West

203

Military NB bike lane

6

Military SB bike lane

10

MVT Airport South

263

Quincy NB bike lane

14

Quincy SB bike lane

15

Roosevelt Bridge

73

Rosslyn Bikeometer

214

TR Island Bridge

484

WOD Bon Air Park

0

WOD Bon Air West

0

WOD Columbia Pike

173

Wilson WB bike lane

56
Peds counted
View Counter Data
110 Trail

0

14th Street Bridge

150

Arlington Mill Trail

660

Ballston Connector

189

Bluemont Connector

421

CC Connector

165

Custis Bon Air Park

235

Custis Rosslyn

272

Eads NB

0

Eads SB

0

Fairfax WB

0

Joyce St NB

46

Joyce St SB

0

Key Bridge East

824

Key Bridge West

411

MVT Airport South

129

Roosevelt Bridge

1

TR Island Bridge

696

WOD Bon Air Park

0

WOD Bon Air West

0

WOD Columbia Pike

614
All counters, YTD
View Counter Data
Year to Date

1137362