Tasty Chicken Box
Ibrahim Alzubaidi, Owner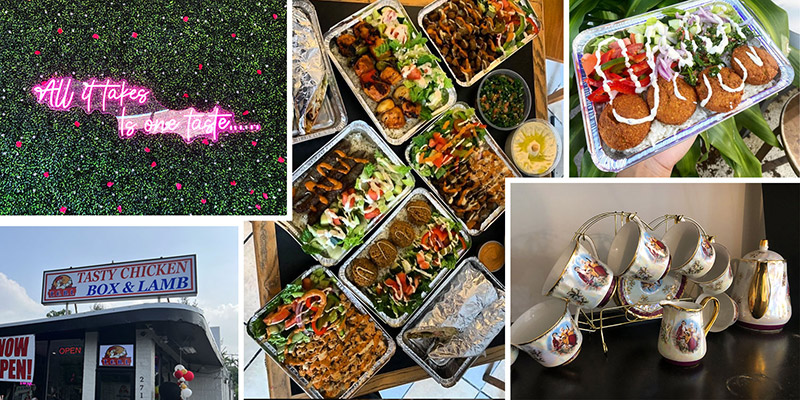 Owner Ibrahim Alzubaidi and his family recently moved from Detroit to Arlington. There he worked in restaurants, pizzerias and cafes but always wanted to offer flavors from his home country, Yemen. With his son and daughter, Ibrahim opened Tasty Chicken Box on Washington Boulevard. With a fresh and clean new look, Tasty Chicken Box offers an array of middle eastern flavors on the menu.
The name perfectly describes the building, resembling a quaint rectangular box. As soon as you walk in, you'll see fresh kabobs in the display window, all marinated the night before. Choose from chicken or lamb. And the entire menu is made from halal meat. Besides kabob, Ibrahim says many customers like the grilled shish tawook. This is tender chicken marinated in yogurt, lemon juice and garlic — then grilled up on a skewer and served with rice and sauce on the side. Fair warning: if you choose the platter, either bring an appetite or be prepared to take it home for a reprise later. Choose from chicken, lamb, combo or even falafel for a vegetarian option. It also comes with rice and lettuce with their special sauce drizzled on top.
With just three employees (Ibrahim and his two children), they magically get it all done. From preparing marinades and taking orders to preparing the food and serving tables in the 40-person capacity back room. Getting to Tasty Chicken Box is easy given its location not far from Clarendon. Take Capital Bikeshare to the station right around the corner, ART 42, 45 & 77 or Metrobus 16Y. Ibrahim is currently working on expanding the space between the buildings, converting it into a hookah bar. If you come, leave room for dessert. They have baklava and basboosa, a sweet syrup-soaked semolina cake.
Tasty Chicken Box
Washington Blvd.
Arlington, VA 22204
Go car free to Tasty Chicken Box
Arlington's Bicycle & Pedestrian Counters
Bikes counted
View Counter Data
110 Trail

155

14th Street Bridge

347

Arlington Mill Trail

61

Ballston Connector

0

Bluemont Connector

77

CC Connector

128

Clarendon EB bike lane

94

Custis Bon Air Park

177

Custis Rosslyn

264

Eads NB

21

Eads SB

53

Fairfax EB bike lane

54

Fairfax WB

55

Joyce St NB

18

Joyce St SB

0

Key Bridge East

348

Key Bridge West

272

Military NB bike lane

11

Military SB bike lane

11

MVT Airport South

337

Quincy NB bike lane

34

Quincy SB bike lane

45

Roosevelt Bridge

0

Rosslyn Bikeometer

492

TR Island Bridge

193

WOD Bon Air Park

0

WOD Bon Air West

0

WOD Columbia Pike

176

Wilson WB bike lane

77
Peds counted
View Counter Data
110 Trail

294

14th Street Bridge

120

Arlington Mill Trail

6357

Ballston Connector

863

Bluemont Connector

791

CC Connector

339

Custis Bon Air Park

413

Custis Rosslyn

339

Eads NB

0

Eads SB

0

Fairfax WB

0

Joyce St NB

28

Joyce St SB

0

Key Bridge East

1423

Key Bridge West

494

MVT Airport South

217

Roosevelt Bridge

0

TR Island Bridge

547

WOD Bon Air Park

0

WOD Bon Air West

0

WOD Columbia Pike

334
All counters, YTD
View Counter Data
Year to Date

6060586